Friday Farm Blog – Nov. 1
This week's Friday farm blog is brought to you a day late and a dollar short.
Okay, maybe two days late and not really a dollar short. This whole once-a-month shopping thing has been incredibly good for my budget.  I am working on my list for the next grocery trip and already did a run to an outlet store for some supplies that are always way cheaper there. I'll give you totals next week, but I'm very very pleased with this so far.  I think the biggest savings comes from the lack of impulse purchases. I have trouble going into a place with all of this glorious food and not bringing some of it home with me.
Last week was rather challenging. I did lots of canning because it's that time of year. I made more tomato-basil soup, some canned tomatoes, and a huge batch of barbecue sauce with the last of the tomatoes. After my tomato canning fest, I went to clean up the kitchen and – whoops – no water!  It turned out that my well pump bit the dust. We went a couple of days without running water and got to test out our preps. What we learned is that we have dramatically underestimated how much water we use with our livestock. I had thought we had enough stored for about a month before tapping into our secondary sources, but in reality, we would have enough for about a week based on our usage those two days.  I strongly advise running a surprise drill at your place. Don't go out and buy extra supplies for it – start wherever you're at, with what you normally keep on hand. Let us know what YOU learn.
Our trenches have been dug, so bring on the rain. Unless something really unusual happens, our little valley should be safe from flooding. We are officially set for fall.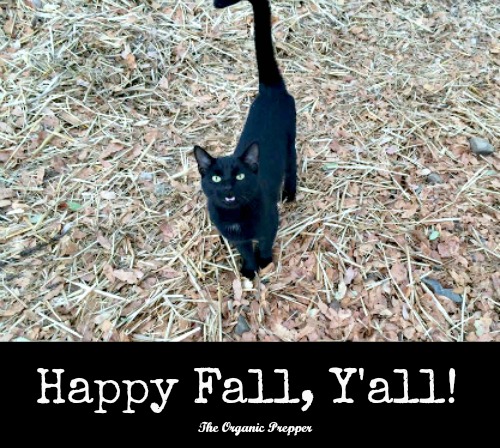 In the week ahead, I have apples and pumpkins to can. Fall is crazy busy, but I love the productiveness of it. Slowly, my pantry is getting loaded up for the winter. The smell of apples and cinnamon is in the air today, as the dehydrator runs with a full load of apple chips. Speaking of which, the top of the dehydrator is my older kitty's favorite cozy warm spot now. I'm not sure how I feel about this.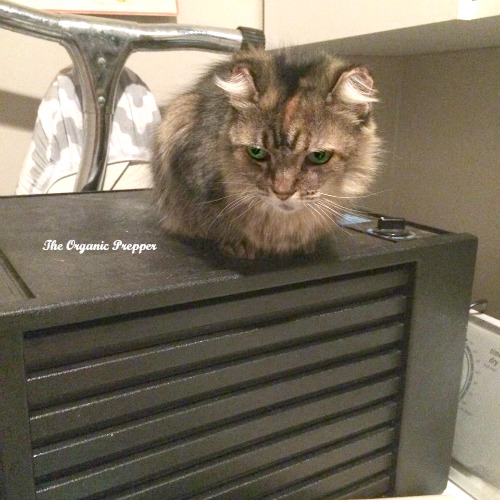 All of the livestock are pretty happy about the canning. They get delicious scraps daily from the previous day's food prep. I had a lot of trouble with the ducks when they were smaller. They're extremely skittish and not at all friendly like the chickens, even though I raised them the same way. So, since there was no bond, I decided to eat them…but then, it's like they knew, because now they do this when I walk in the coop, which makes it harder. Sigh.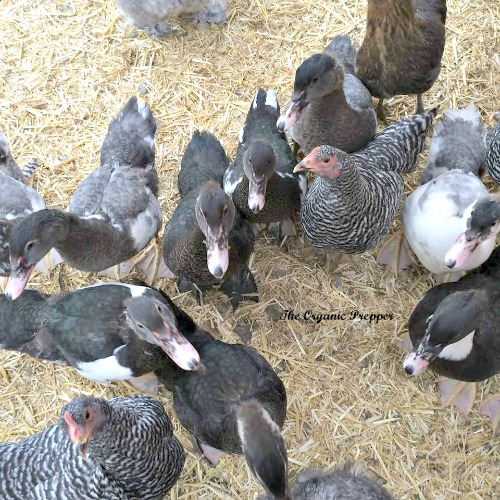 Last night, (Halloween) I went up to the barn late because I couldn't remember if I'd given the goats water when I put them away. Since I'm a wuss and I think a mountain lion is going to eat me, I took my 150-pound guard dog, Thor, with me. When I walked out of the barn, before I turned the flashlight on, I saw a truck slow, then stop, in front of our gate. I watched in astonishment as a guy jumped out of the passenger side and hopped my fence. I felt that the best course of action was to "release the hound" so I unclipped Thor's leash. He tore down to the fence, with his scary deep bark. Never have I seen someone try to leap over a fence backward so frantically. I think the guy might have peed a little. I turned on my spotlight and watched him get back in the truck, where they peeled out in a big hurry.
Good doggie.  He has a sweet face but probably not so much when he's running at you snarling.
This week my plan is to finish the food preservation, then spend some time organizing my pantry. I love the look of all of those jars of food. How was your week? Did you do anything to get your preps and farm set for the fall?  Are you still getting stuff out of your garden?
About the Author
Please feel free to share any information from this site in part or in full, leaving all links intact, giving credit to the author and including a link to this website and the following bio. Daisy is a coffee-swigging, gun-toting, homeschooling blogger who writes about current events, preparedness, frugality, and the pursuit of liberty on her website, The Organic Prepper. Daisy is the publisher of The Cheapskate's Guide to the Galaxy, a monthly frugality newsletter, and she curates all the most important news links on her aggregate site, PreppersDailyNews.com. She is the best-selling author of 4 books and lives in the mountains of Virginia with her two daughters and an ever-growing menagerie. You can find Daisy on Facebook, Pinterest, and Twitter.