(Psst: The FTC wants me to remind you that this website contains affiliate links. That means if you make a purchase from a link you click on, I might receive a small commission. This does not increase the price you'll pay for that item nor does it decrease the awesomeness of the item. ~ Daisy)
By Daisy Luther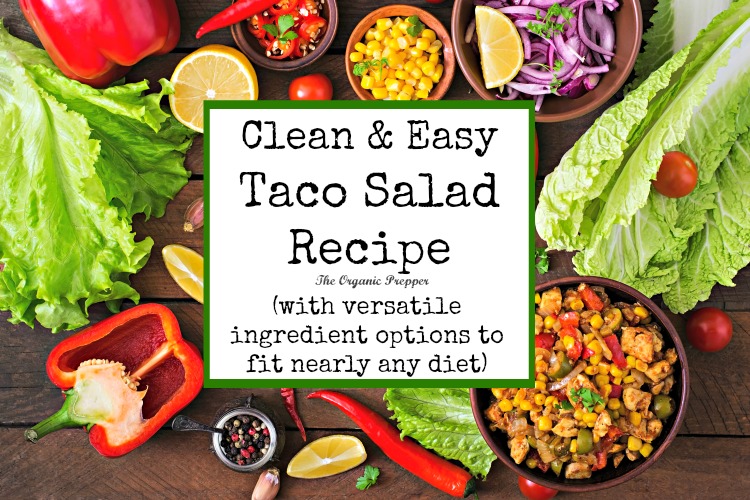 When the weather is hot, no one really wants a hot meal. One of our family favorites is taco salad. Of course, I don't really wait for hot weather to eat this. I could happily consume it every single day!
Lots of taco salads, especially the restaurant variety, come in a large, unhealthy, deep-fried tortilla bowl and are topped with what appears to be an entire container of sour cream. Trust me. You don't need all that. This recipe is tasty and healthy.
There are all sorts of optional ingredients to fit a wide variety of diets, lifestyles, preferences, and budgets.
How to make a healthy, delicious taco salad

First, make the meat. If you're a vegetarian, you can omit the meat and make this entirely with your favorite canned or already cooked beans.  Just drain them well before cooking.
1 pound of ground whatever (beef, bison, turkey, chicken – just go with something fairly lean so your salad isn't dripping with grease) OR 1 pound of diced boneless chicken or steak
2 cloves of finely minced garlic
1 small chopped onion
Optional other veggies: You can add other vegetables that are finely diced or minced for added nutrition. Shredded carrots, shredded beets (or diced leftover chopped beets), coarsely shredded zucchini – anything you need to use up. Don't add more than a cup of these veggies you risk overpowering the flavor.
Canned beans: If you need to stretch your pound of meat to feed more people, add a can of drained beans, like pinto or black
Saute all of this up in your favorite non-reactive skillet. You'll be adding some acidic stuff so cast iron, copper, and aluminum will be funky.
Once the meat/veggie mixture is cooked through and lightly browned, add your seasonings.
2 tbsp of chili powder – we love lots of chili powder but feel free to scale this down to your family's preferences
1 tsp of cumin powder
Salt to taste
1/4 cup of ketchup – I either use home-canned (recipe here) or organic
Stir in the dry seasonings, then dump your ketchup on top. Turn up the heat and stir constantly for 2 minutes.
You're done. Put the meat aside to cool while you work on the salad. Because there's nothing yuckier than hot lettuce in my little world.
Assembling the taco salad

I haven't listed quantities on the foods below, since those are relative to how many people are dining and personal preferences. This isn't exactly a recipe, but more like lists of ingredients for you to assemble to your own liking.
You can layer the following ingredients in a large bowl, or do individual bowls if you have picky family members who don't like all of the components.
Greens (I use baby spinach and romaine for most salads, but pick whatever you like best)
Protein (Cooked ground meat from the recipe above, rotisserie chicken, drained canned beans, or a combo)
Salsa (or chopped tomato, onion, bell peppers, jalapeno, and cilantro)
Corn (from the can, drained, or from the freezer, thawed)
Optional Deliciousness: Chopped avocado, guacamole, sour cream, shredded cheese, olives)
More optional deliciousness: cooled, cooked rice or quinoa can be added if you want more carbs or a more filling meal
A small handful of corn tortilla chips – no, not Cool Ranch Doritos – look for something with the non-GMO verified label or something organic.
A squeeze of lemon or lime juice
French salad dressing – yes, French. Go for an organic version of a Catalina-style dressing, not the creamy French. I usually pick mine up in the refrigerated section of my local grocery store or use my own adaptation of this recipe to make it from scratch. If you truly loathe French dressing, you can use a creamy Ranch-style dressing. Just be sure to make these from scratch or get something high-quality. You don't want to sully this yummy, healthy salad with a chemical cocktail. Some folks just use a combo of salsa and sour cream for the dressing, but the French dressing makes a truly delicious salad.
Toss all of this stuff together and then dole it out into individual bowls. I usually crumble a couple more chips on top of each individual bowl for presentation.
A Few No-Cook Cheats

You can pick up a rotisserie chicken at your local grocery store or you can make one yourself in your crockpot.
To make your salads fresh and crisp, store the greens properly. The best thing I have found is to give my greens a whirl in the salad spinner after washing them…and leaving them there. I store the whole shebang in my fridge for crisp, perfect greens. I have this huge one because we eat salad every single day.
Spend some time on cooler days cooking certain components ahead of time. I like to make large batches of taco salad meat that can be pulled out of the freezer on the day they're going to be added to the salad. This meat can also be used in soft tacos, enchiladas, or burritos.
Do you have a favorite taco salad secret ingredient?

Does my recipe omit something that your taco salad simply must contain? Share your secret ingredient in the comments below. And let me know how you like this recipe. 🙂