(Psst: The FTC wants me to remind you that this website contains affiliate links. That means if you make a purchase from a link you click on, I might receive a small commission. This does not increase the price you'll pay for that item nor does it decrease the awesomeness of the item. ~ Daisy)
Did your parents ever insist you take castor oil as a kid? That is some foul-tasting stuff.  Luckily for children today, that particular trend seems to have gone away.
But the last generation was on to something – castor oil has many uses, most of which do not require consumption.
What is castor oil?
Castor oil is made from the seeds of the castor plant. (Ricinus communis) It is an ingredient in many modern drugs, including:
Miconazole, an antifungal agent.
Paclitaxel, a mitotic inhibitor used in cancer chemotherapy.
Sandimmune (cyclosporine injection, USP), an immunosuppressant drug widely used in connection with organ transplant to reduce the activity of the patient's immune system.
Nelfinavir mesylate, an HIV protease inhibitor.
Tacrolimus, an immunosuppressive drug (contains HCO-60, polyoxyl 60 hydrogenated castor oil);
Xenaderm ointment, a topical treatment for skin ulcers, is a combination of Balsam of Peru, castor oil, and trypsin.
Aci-Jel (composed of ricinoleic acid from castor oil, with acetic acid and oxyquinoline) is used to maintain the acidity of the vagina.
Optive Plus (carboxymethylcellulose, castor oil) and Refresh Ultra (glycerine, castor oil), are artificial tears to treat dry eye.
Castor oil is also one of the components of Vishnevsky liniment. (source)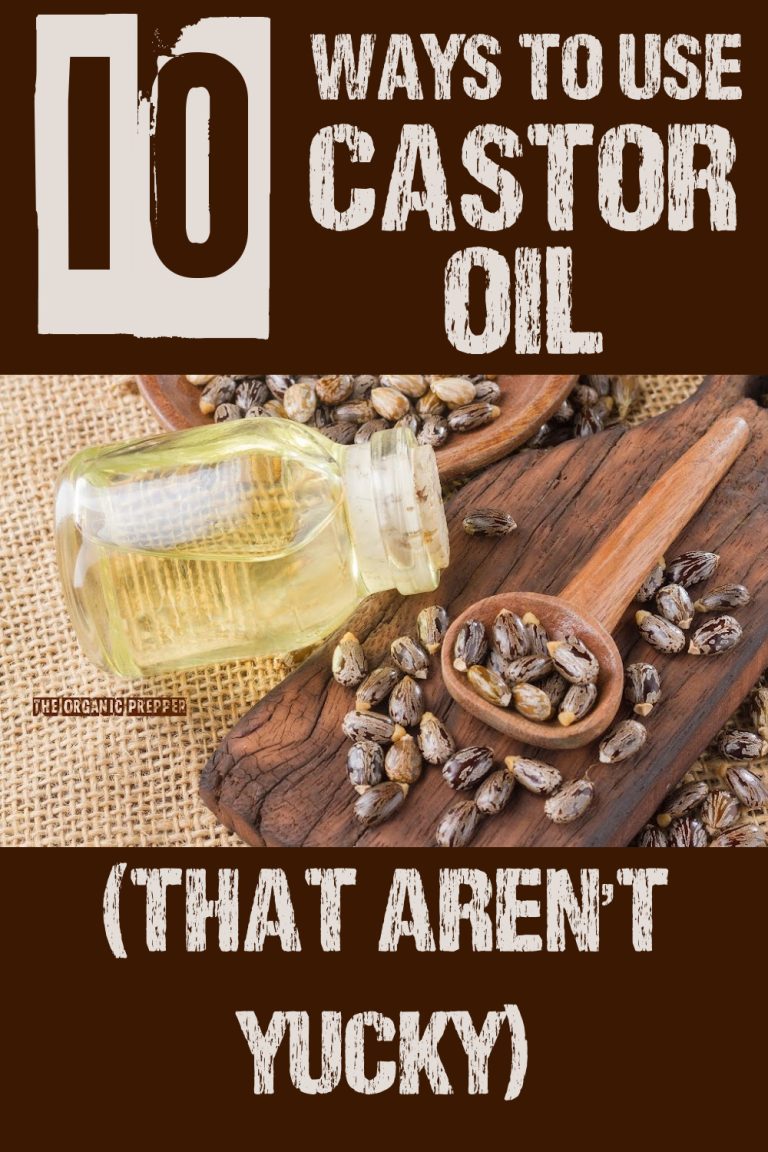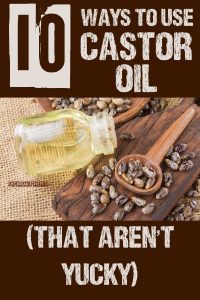 Castor oil can last for years, making it a great multi-purpose addition to your preps. You can get a whopping 48-ounce container of it for less than $25 here.
It's interesting to note that the plant and beans that it comes from are also used in the creation of ricin, one of the most deadly plant toxins in existence.
Here are a few alternative uses for castor oil.
Here are some ways that odious-tasting stuff has been used throughout history… and you don't even have to consume it! These are all historical uses and not medical recommendations, of course.
To lubricate kitchen tools. Since castor oil can be ingested, it's an ideal lubricant for anything that comes into contact with food, like kitchen scissors, knives and knife sharpeners. You can also use it to lubricate other things around the home with no worries about kid or pets because it is non-toxic.
For topical pain relief. Mix castor oil with a little turmeric or cayenne pepper and rub into achy joints for pain relief.
On fungal diseases. If medical attention is not available, try castor oil for its anti-fungal properties. It could relieve the symptoms of common infections like ringworm, jock itch (tinea cruris), and athlete's foot. Simply warm the oil, apply to the affected area before bedtime, and leave it on overnight. Repeat for a week or until the infection has disappeared completely.
To apply directly to your skin to improve elasticity. Old-fashioned midwives still recommend that pregnant women massage their growing belly to help avoid stretch marks. (Mine did- it worked for me!)
To aid hair growth. Apply directly to the scalp or sparse brows and lashes.
To apply to corns and calluses. Massaging the oil into corns and calluses over a period of a couple of weeks will soften the skin and help the lumps disappear.
To treat split ends.  The appearance of split ends can be improved by smoothing castor oil onto them. Warm between your palms and smooth on, leave for a couple of hours, and wash your hair as usual.
To apply to minor skin irritations. Scratches and breakouts can benefit from dabbing on a small amount of castor oil. This takes away itching and irritation.
To treat external hemorrhoids. Soak a cotton ball in castor oil, then leave it on the affected area for 15 minutes.
To get rid of moles. Moles hate castor oil.  Mix half a cup with a couple of gallons of water and pour directly onto the molehills. It's non-toxic and won't kill the moles or the grass, but it will certainly encourage the annoying critters to move elsewhere.
I was told when I was pregnant that drinking castor oil could induce labor naturally. I dutifully chugged down a small bottle of the nasty stuff when I was two weeks overdue, hoping to evict my little tenant, who had stayed too long. Spoiler: it didn't work and only gave me a bad case of diarrhea.
Bonus: Internal Use
I know – YUCK. But here's why our grandparents swore by the stuff.
Castor oil can be used as a laxative. When taken orally, ricinoleic acid gets released in the intestine and then it starts functioning as a laxative. The heat created by castor oil initiates action by helping the process of digestion and cleansing the system by helping in proper bowel movement. Luckily, this comes in capsule form, so you don't have to choke it down.
Look at all those uses, and only once did I suggest you consume it! If you have any more ways to use castor oil, please share them in the comments box below.
Have you ever used castor oil? Did your grandparents swear by it? Do you have any uses to recommend that weren't mentioned here? Let's discuss it in the comments section.
About Daisy
Daisy Luther is a coffee-swigging, adventure-seeking, globe-trotting blogger. She is the founder and publisher of three websites.  1) The Organic Prepper, which is about current events, preparedness, self-reliance, and the pursuit of liberty; 2)  The Frugalite, a website with thrifty tips and solutions to help people get a handle on their personal finances without feeling deprived; and 3) PreppersDailyNews.com, an aggregate site where you can find links to all the most important news for those who wish to be prepared. Her work is widely republished across alternative media and she has appeared in many interviews.
Daisy is the best-selling author of 5 traditionally published books, 12 self-published books, and runs a small digital publishing company with PDF guides, printables, and courses at SelfRelianceand Survival.com You can find her on Facebook, Pinterest, Gab, MeWe, Parler, Instagram, and Twitter.