(Psst: The FTC wants me to remind you that this website contains affiliate links. That means if you make a purchase from a link you click on, I might receive a small commission. This does not increase the price you'll pay for that item nor does it decrease the awesomeness of the item. ~ Daisy)
On the heels of a CDC Food Safety Alert issued December 9, 2019, regarding Fresh Express Sunflower Crisp Chopped Salad Kits, that involve a multistate and Canadian outbreak of E. coli O157:H7 comes another recall; Frozen Breakfast Burritos.
It seems the recalls are normal occurrences nowadays, with only hours, days, or maybe a week, between each new one.
The Burritos
This time we're looking at frozen breakfast burritos from Ruiz Food Products Inc., in Florence, S.C.  According to the FSIS (Food Safety and Inspection Service), the not ready to eat (NRTE) frozen burritos with ingredients of eggs, sausage, and cheese may be contaminated with pieces of plastic.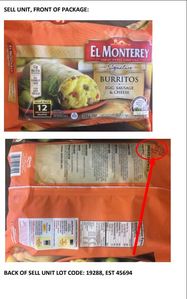 Remember, a Food Recall occurs when there is reason to believe that a particular food may cause consumers to become sick, and is sometimes different than an outbreak of foodborne illness.  A product can be recalled for many reasons including discoveries of foreign contaminants, major allergens that don't appear on the product label (for example; peanuts), and/or bacteria such as Salmonella and Listeria monocytogenes. An outbreak of foodborne illnesses is restricted to foodborne pathogens.
This has happened before.
This isn't the first time Ruiz Food Products has been involved in a recall this year. In June, this time from Denison, TX., they recalled 246,514 pounds of breakfast wraps for "extraneous materials, specifically small rocks", and in October of 2018, almost two and 1/2 million pounds of ready to eat meat and poultry taquitos were also recalled due to possible salmonella and listeria monocytogenes.
The current recall product of "El Monterey Signature Burritos" was produced on October 15, 2019, were shipped to stores across the United States, and made the USDA recall list today, December 10, 2019. The company, Ruiz Food Products, Inc., notified FSIS of three customer complaints regarding the burritos that involved pieces of white, semi-rigid plastic found in the product. Because of that, 55,013 pounds of frozen breakfast burritos are in the recall. There have been no reports of injuries from customers at this point, however, officials urge that anyone with the burritos throw them away or return them.
How do we know which burritos have been recalled?
The products in this recall have the establishment number "EST 45694" printed on the value pack bag and the individual wrappings, next to the lot code. If you have any questions about the recall you can contact Ruiz Foods Products Inc., Consumer Line at (800) 772-6474.
What about the salads?
In regards to the Food Alert that involves the outbreak of E. coli O157:H7 infections, do not eat or sell Fresh Express Sunflower Crisp Chopped Salad Kits with this identifying information that is printed on the front of the bag in the top right corner:
UPC 0 71279 30906 4, beginning with lot code Z
and a best-before date up to and including 07DEC19.
If you find you have this kit in your refrigerator, wash and sanitize drawers or shelves where it was stored. You can sanitize your fridge with a ratio of 1 tablespoon of bleach to 1 gallon of cool water. Wipe with the solution and let it stand for 2 minutes, then dry-wipe or air dry.
The latest news on this E. coli infection outbreak shows eight people infected with the outbreak strain, three people have been hospitalized, and one person has developed hemolytic uremic syndrome, a type of kidney failure. No deaths have been reported. This has been reported in 3 states. The Centers for Disease Control says the investigation is ongoing to determine what ingredient in the salad kit was contaminated. While romaine lettuce is one of the ingredients, it's not known yet if this outbreak is linked to the E. coli outbreak regarding romaine lettuce from the Salinas, California, growing region.
Great resources for Recall How-To's, Sanitizing, and E. coli:
About Sandra
Sandra is a wife of 38 years, a mother of 3 awesome grown children, a published artist, photographer, fellow prepper, and animal advocate. She is a strong proponent of the Second Amendment, an avid gun owner, a woman of faith, and values honesty and loyalty above all else.