Announcement: The Prepper's Canning Guide Is Now Available
(Psst: The FTC wants me to remind you that this website contains affiliate links. That means if you make a purchase from a link you click on, I might receive a small commission. This does not increase the price you'll pay for that item nor does it decrease the awesomeness of the item. ~ Daisy)
By Daisy Luther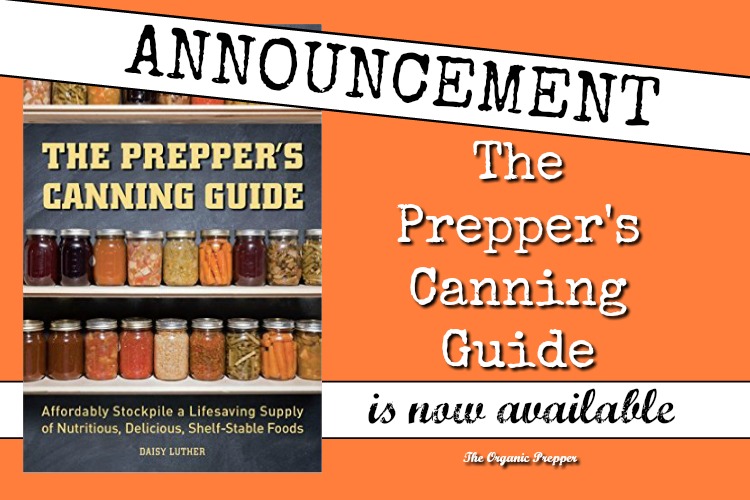 I'm excited to announce that my new book is out. The Prepper's Canning Guide: Affordably Stockpile a Lifesaving Supply of Nutritious, Delicious, Shelf-Stable Foods is now available on Amazon.
Here's how this book is different

If you already own my self-published canning book, The Organic Canner, you will notice some of the same recipes. But this book has a twist – it was written with preppers in mind. It contains not only dozens of additional recipes but also information unique to those who prep:
How to can when the power goes out
What canning supplies you should keep on hand in quantity for long-term disasters
How to save the contents of your fridge and freezer in the event of a lengthy power outage
Old-fashioned methods that don't require store-bought ingredients like pectin
Modern updates using the latest food science research to make your supply as safe as possible
These updates cover many of the questions I receive from preppers about post-collapse canning.
The recipes can easily be geared to what you have

Another thing that I did throughout this book was to create recipes that you can adjust based on the supplies that you have on hand.
You'll find lots of "kitchen-sink" garden recipes for chutneys, soups, and relishes. There's a section on canning "Roast Beast" that covers canning pork, venison, beef – whatever you have recently harvested or purchased at the store in bulk. There is an entire chapter on how to safely can your own recipes, plus charts for canning different types of garden produce safely.
I did this because, particularly during an emergency, you may have odds and ends that need to be preserved quickly. When you don't have access to the store, you may not have a perfect bushel of one type of produce and you may need to be creative with your ingredients. At the same time, you want to do this safely.
The book is good for beginners and experienced canners

There's a thorough section of instructions for those who are just getting started with canning. It includes a discussion on the reasons for the best possible food safety practices, very simple how-to instructions, and the answers to many frequently asked questions about both water bath and pressure canning.
For those who are experienced canners, you may want to skip right to the recipes. You'll find all sorts of meals in jars that you can put back for the healthiest, homemade "fast food" around.
I hope you enjoy The Prepper's Canning Guide!

If you get the book and love it, please know that good reviews can be invaluable on Amazon. An abundance of good reviews helps the books of your favorite authors show up higher in searches when people are looking for a book on a topic. Five-star reviews are greatly appreciated, but only if you feel like it's deserved, of course.
As always, I thank you for your support. You guys are the best readers around and knowing you all has changed my life for the better.
Order The Prepper's Canning Guide
About the Author
Daisy Luther is a coffee-swigging, globe-trotting blogger. She is the founder and publisher of three websites.  1) The Organic Prepper, which is about current events, preparedness, self-reliance, and the pursuit of liberty on her website, 2)  The Frugalite, a website with thrifty tips and solutions to help people get a handle on their personal finances without feeling deprived, and 3) PreppersDailyNews.com, an aggregate site where you can find links to all the most important news for those who wish to be prepared. She is widely republished across alternative media and  Daisy is the best-selling author of 5 traditionally published books and runs a small digital publishing company with PDF guides, printables, and courses. You can find her on Facebook, Pinterest, Gab, MeWe, Parler, Instagram, and Twitter.