(Psst: The FTC wants me to remind you that this website contains affiliate links. That means if you make a purchase from a link you click on, I might receive a small commission. This does not increase the price you'll pay for that item nor does it decrease the awesomeness of the item. ~ Daisy)
By Daisy Luther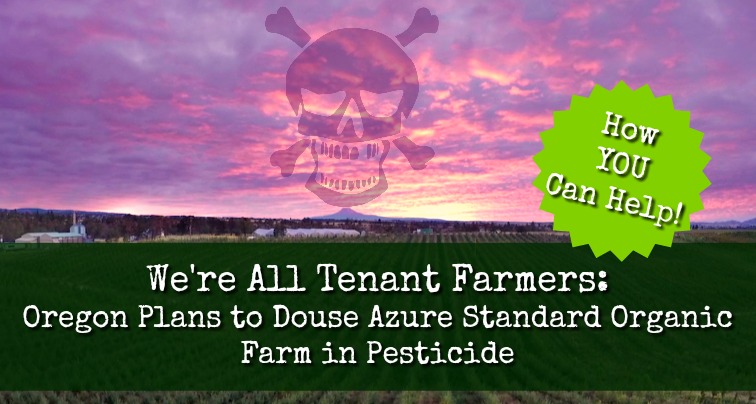 If you buy organic products, chances are you have heard of Azure Standard, which is sort of like a mobile co-op that delivers well-priced organic food and products in bulk to drop-off points around the country.
Now that idyllic 2000-acre organic farm, which has produced reasonably priced organic wheat, field peas, barley, Einkorn, and beef for thousands of people across the country, is about to be sprayed against their will with Roundup and other harmful pesticides, due to a ruling from their local municipality about invasive plants.
Oregon state law requires farms to control noxious weeds. In this case, the weed in question is the Canadian Thistle. Sherman County appears to be concerned that Azure has not taken enough steps to eradicate the weed and decided they'll do it themselves, to the detriment of Azure's long-standing, 18-year organic certification and their livelihood as organic farmers.
Just in case you were under the misconception that we actually own our land and can decide what happens to it in this country, it appears that we're tenant farmers with no options if the local government decides to wipe us out:
"Sherman County may be issuing a Court Order on May 22, 2017, to quarantine Azure Farms and possibly to spray the whole farm with poisonous herbicides, contaminating them with Milestone, Escort and Roundup herbicides.

This will destroy all the efforts Azure Farms has made for years to produce the very cleanest and healthiest food humanly possible. About 2,000 organic acres would be impacted; that is about 1.5 times the size of the city center of Philadelphia that is about to be sprayed with noxious, toxic, polluting herbicides.

The county would then put a lien on the farm to pay for the expense of the labor and chemicals used." (source)
So not only will they poison the crops and kill off Azure's livelihood, they'll charge them for it. That's a brazen insult on top of the injury.
Here's how you can help Azure Standard.
There is just under a week before this would occur. Here's what WE can all do.
If you are concerned about where your food comes from, enjoy Organic and non-GMO food grown in the United States, and support organic farmers, contact Sherman County Court before May 22, 2017 (and preferably before May 17 when the next court discussion will be held).

Contact info:

Via email at 

[email protected]

 or…
Call Lauren at 541-565-3416.

Raise your voice and speak up for you and your families and communities.

This proposed action is completely unreasonable and would destroy an organic farm and pollute a massive area. If enough voices that benefit from organic produce speak up, the county will understand that there are people that care about their food NOT containing toxic chemicals. And if the supporters of healthy food can have a louder voice than the supporters of toxic chemicals, every politician will listen. PLEASE take action today and share this message. Overwhelm the Sherman County representatives with your voice. (source)
I've already sent my email and will be making a call later today. Get on board and do the same. And share this article with everyone you know so that we can make our voices heard.
Update: Here are the email addresses of the entire county commission. Please be civil when you contact them, as swearing, threatening, and being rude means your message is lost to the delete bin.
County Commissioners Tom McCoy & Joe Dabulskis along with Administrative Assistant
Sign the petition.
There is a petition you can sign that will be sent to the people in charge of this act of sabotage. Go here – it only takes a moment to sign it.
[thrive_link color='red' link='https://www.change.org/p/lauren-hernandez-stop-sherman-county-from-destroying-organic-farm' target='_blank' size='medium' align='aligncenter']Sign the Petition to Save Azure Standard Farm[/thrive_link]
It's bad enough that everything in the grocery store is already tainted. Actions like this take away our choice to avoid toxic pesticides and poisons in our food. We should have the right to buy organic, but if local governments take away the right to grow organic, we'll have nothing left to eat than the standard fare.
If we stand by and do nothing but shake our heads sadly, we'll soon be stuck without dietary options.