Al Qaeda Issues a Propaganda Message to Incite MORE Violence in America
(Psst: The FTC wants me to remind you that this website contains affiliate links. That means if you make a purchase from a link you click on, I might receive a small commission. This does not increase the price you'll pay for that item nor does it decrease the awesomeness of the item. ~ Daisy)
Al Qaeda has issued a message in English urging the "oppressed masses" to rise up in revolt "against the rulers occupying the White House." It's not really surprising that enemies of the United States are trying to take advantage of the current unrest, and given the ongoing protests and riots in the United States, this message can only be meant to incite further violence. (To learn more about surviving civil unrest, go here.)
The message urges no "compromises" and calls upon protesters to "persist in your defiance." It warns of the punishment of Allah against those who fail to "revolt" and "overthrow the existing order."
Below you can find screenshots from AlertsUSA of the message.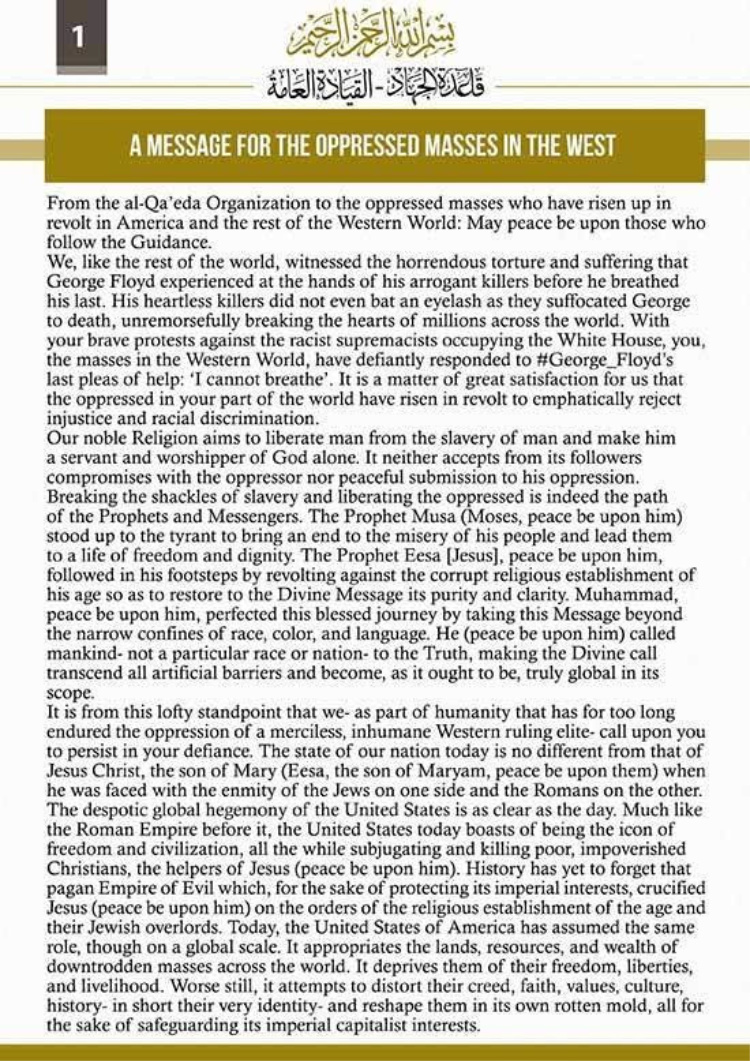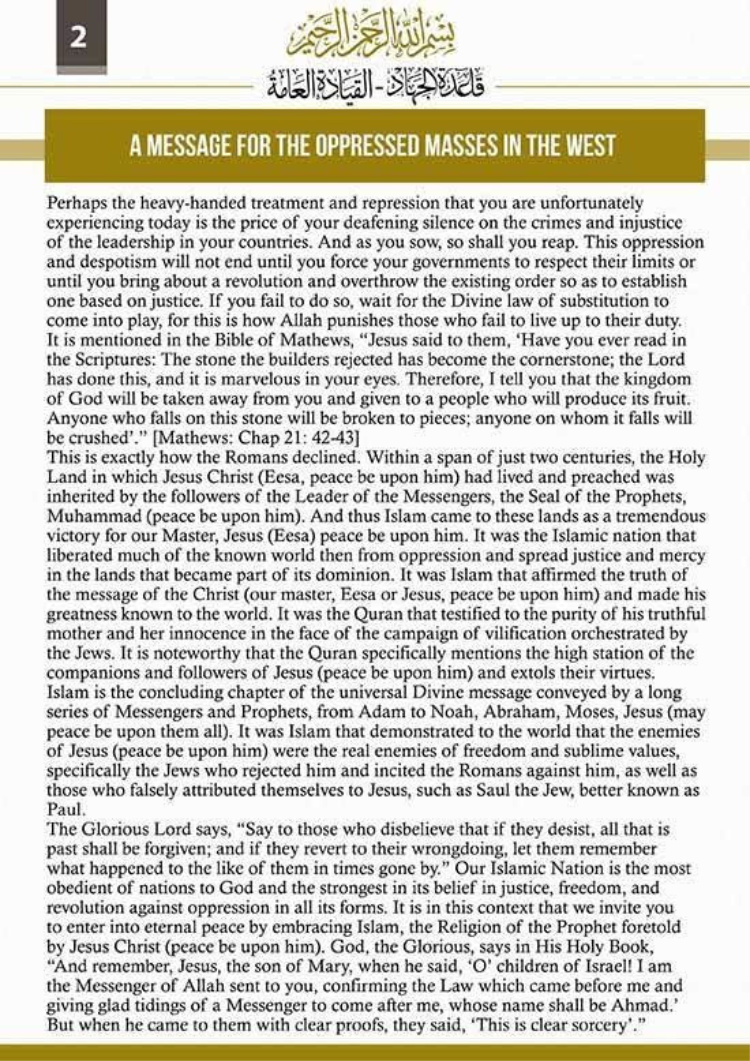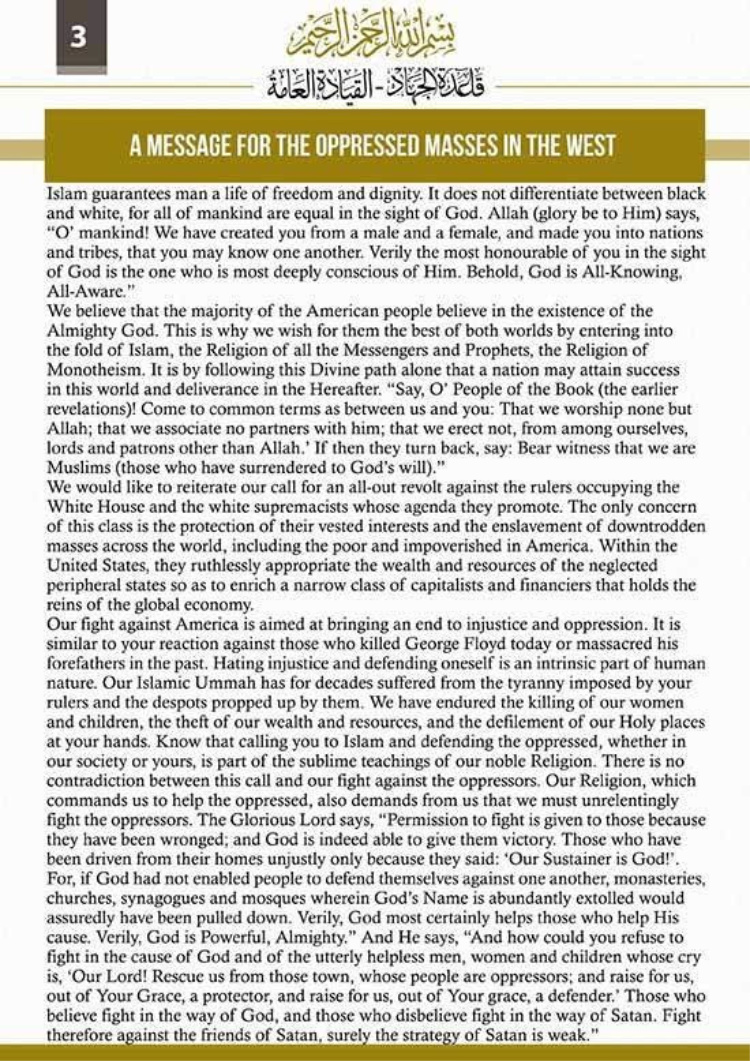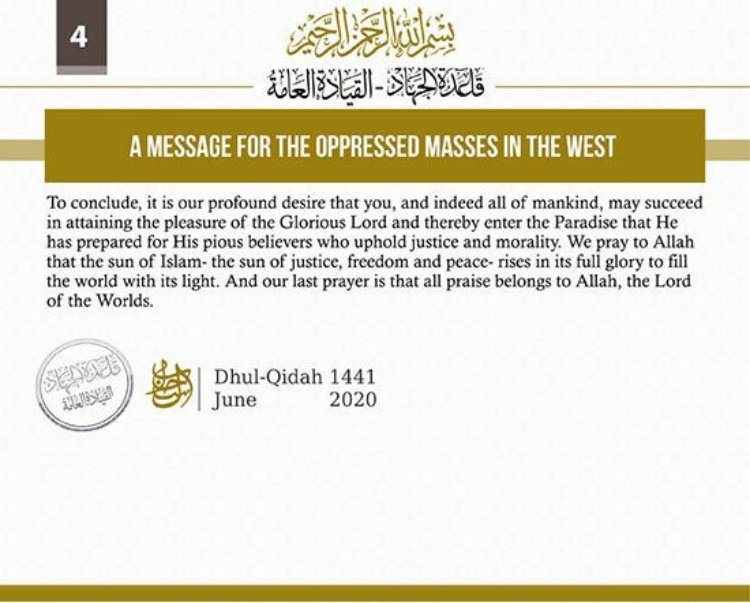 With the number of disenfranchised young Americans, the message is particularly insidious during this difficult time in our country. With a 4th of July that is certain to be "eventful" rapidly approaching, will this message incite even further dissent and violence?
Share your thoughts in the comments.
About the Author
Daisy Luther is a coffee-swigging, globe-trotting blogger. She is the founder and publisher of three websites.  1) The Organic Prepper, which is about current events, preparedness, self-reliance, and the pursuit of liberty on her website, 2)  The Frugalite, a website with thrifty tips and solutions to help people get a handle on their personal finances without feeling deprived, and 3) PreppersDailyNews.com, an aggregate site where you can find links to all the most important news for those who wish to be prepared. She is widely republished across alternative media and  Daisy is the best-selling author of 5 traditionally published books and runs a small digital publishing company with PDF guides, printables, and courses. You can find her on Facebook, Pinterest, Gab, MeWe, Parler, Instagram, and Twitter.