(Psst: The FTC wants me to remind you that this website contains affiliate links. That means if you make a purchase from a link you click on, I might receive a small commission. This does not increase the price you'll pay for that item nor does it decrease the awesomeness of the item. ~ Daisy)
By Daisy Luther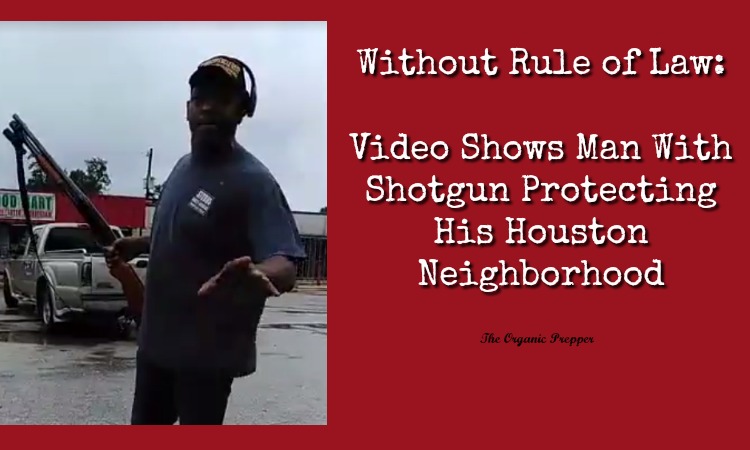 A man named Nash decided to protect his community from looters after Hurricane Harvey left the Houston area vulnerable. Unfortunately, after a disaster, some people decide it's the perfect time to steal from others. This scenario is commonly known in survivalist circles as "without rule of law."
It means that criminals aren't concerned about consequences, 911 isn't an option, and it is every person for themselves. If you aren't ready to protect yourself, you are likely to become a victim.
You'll note that the woman who is shooting the video of the man with the shotgun said that even some so-called "rescuers" were stealing from the people who got into their boats to escape their flooded homes.
This is well worth a listen for anyone who wants to be as prepped for the aftermath of a disaster as for the disaster itself. It's a strong case for what I've said for years. Preppers MUST be armed if they want to be truly prepared. (For more stories like this, please subscribe to my daily newsletter.)
I wouldn't mess with this guy. It's obvious that he means business. This was a Facebook Live video shot by Tay Mayberry. (Warning: profanity.)
Instructions: Click the arrow at the bottom of the photo below for the video. If you don't have sound, right click and select "Unmute." You definitely want to hear this.
(If the video doesn't work on your device, go here for the original.)
So, let's be absolutely clear. The residents of the area have no option to call 911. There are no cops who will come and save them. They are absolutely on their own. This is what a "without rule of law" situation is like.
The shotgun-wielding man, identified as "Nash" said, in part:
"If you go back in that store, I'm telling you one time, I'm not scared to shoot you. I'm an ex-f**king SWAT deputy. I will cut your ass in half. Don't go in that store no goddamn more!

I ain't got a problem with shooting; I still got a license. Try me if you want! I'm a former law enforcement officer. I still support law enforcement; those that do right.

HPD (Houston Police Department) officers right now in the back of city trucks, all armed with AR-15s gotta go back to the neighborhood that's still underwater, flooded, and try and protect these people. It don't make no sense that these guys out here too lazy to get a damn job; the energy they using to rob they didn't even try to use that energy to rescue people.

If you're looting, it's a violation of federal law, it's a violation of Texas law at the time of a catastrophe."
Looters can be seen running from the store. Mayberry's narrative of the video is heartbreaking and gives you a clear picture of the lack of order after a disaster.
When her mother asks Nash if anyone has called 911 for him, Mayberry replies:
911 ain't gonna come, Mama. 911 is outta there. It's either martial law or everybody else watch you. 911 ain't out there. There IS no law."
She says:
"So this is what the hell the news ain't showing ya'll. This is what we're going through on top of this storm. I was scared to call a rescue boat because the people on the rescue boats are rescuing people and then they f**king robbing us ya'll.

We can't call rescue boats because they have fake people posing on the rescue boats and when they come to your house they are robbing you in this storm. So you can't call anybody to rescue you. You literally have to get out yourself."
As well…
"There is no 911. There is no police. There is no law."
Being prepared for a disaster is only half the battle. To survive, you have to be prepared for what comes after the disaster.