(Psst: The FTC wants me to remind you that this website contains affiliate links. That means if you make a purchase from a link you click on, I might receive a small commission. This does not increase the price you'll pay for that item nor does it decrease the awesomeness of the item. ~ Daisy)
By Daisy Luther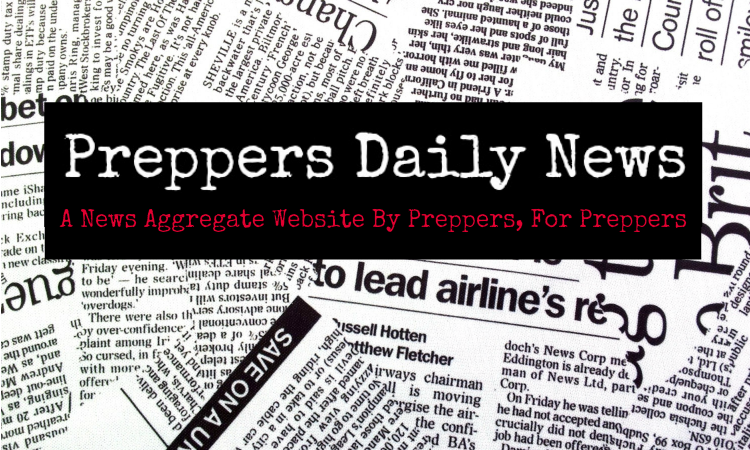 Preppers are often current events junkies – I know I certainly am. We check out the news in a different way than the non-prepared. We want to know things like:
What is coming down the pipe that I can be prepared for?
What can I learn from an ongoing emergency that may help me be better prepared in the future?
What do I need to protect my family from?
The thing that sets us apart is that good or bad, we want to know what's going on. Knowledge is power.
I know this kind of information is important to you, because every week, the most popular article on my website is Survival Saturday, a round-up of news stories from the previous week. These stories focus on preparedness and the pursuit of liberty, topics of the utmost importance to those of us leading a preparedness lifestyle.
So, I was thinking, people might like to see these stories every day.

But, writing Survival Saturday takes several hours and I only cover 3 topics. There are tons more things out there that we all want to know about.
Sifting through the news to get to those things which are most important to us can take a lot of time. I know this because I do so each morning when choosing what I'm going to write about. So, I decided to put that research time to use in a way that will make easier for you, too.
Today, I'd like to introduce my new website, Preppers Daily News.

Modeled after the aggregate style of one of my own favorite sources, Drudge Report, the new site is a series of headlines with the topics that I found to be the most interesting while sifting through dozens of news sites each day. The articles are chosen for their bearing on those of us who want to be prepared. They're about:
Looming threats to our well-being
Stories about liberty, free speech, and self-reliance
Natural disasters
Man-made emergencies
Health hazards
Cyber attacks
Economic indicators
Civil unrest
You get the idea…the things you can be ready for if you know about them or the things that can inspire you to be better prepared, regardless of where you are in your journey. This isn't where to go to learn about HOW to prep. (Check out Prepper Website for that!) This is where to go to learn WHY to prep.
Please check out Preppers Daily News – my team and I will be updating the site throughout the day. Your support by bookmarking Preppers Daily News and making this part of your daily routine will help us determine whether this is something that is wanted and needed in the preparedness community.
We have an email address for tips, so if you see a story we've missed (or if you're a blogger with a news story), send it here: preppersdailynews (at) gmail.com – if it fits, we'll happily add it.
PS: We're still under construction. I'll be adding links to my favorite websites and news sources over the next few days and we'll be polishing things up. Let me know in the comments section here what you think of this new project.