(Psst: The FTC wants me to remind you that this website contains affiliate links. That means if you make a purchase from a link you click on, I might receive a small commission. This does not increase the price you'll pay for that item nor does it decrease the awesomeness of the item. ~ Daisy)
UPDATE: Alexander Acosta announced his resignation today:
U.S. Secretary of Labor Alexander Acosta said on Friday he will resign his position amid fallout from the Jeffrey Epstein sex trafficking case.

Speaking to reporters, Acosta made the announcement while standing outside of the White House while and next to President Donald Trump.

Trump said that Acosta called him Friday morning with his decision, and added that it was the Labor Secretary's idea to step down. (source)
On July 6, 2019, American financier, "philanthropist," and registered sex offender Jeffrey Epstein was arrested (again). He is charged with one count of sex trafficking of minors and one count of conspiracy to engage in sex trafficking of minors in Florida and New York.
The federal indictment was unsealed and shared with the public several days ago. To read it, click here: Jeffrey Epstein indictment
The indictment states that Epstein sexually exploited many "minor girls" between 2002 and 2005 in Florida and New York. Some of the girls were as young as 14 at the time of the alleged abuse.
On Tuesday, we reported as many details as we could find on Epstein's arrest and the charges. You can read that article here: An Unbiased Look at What We Know About the Epstein Scandal So Far.
Since Tuesday, a lot more information on the case has been published. We will provide as many updates as we could confirm in this article.
First, we will cover a bit of background on Epstein and the possible reasons he has remained a free man (until now) despite serious allegations and what appears to be a large body of evidence that supports his alleged victims' claims.
Then, we will discuss new developments in the case.
Here is a condensed timeline of the Jeffrey Epstein case.
This timeline is based on a report that The Miami Herald (https://www.miamiherald.com/news/local/article221404845.html) published in November 2018. (For some reason, we aren't able to post a live link to the Herald article, but you can copy and paste that URL in your browser to see the article.)
In 2006, after pressure from the Palm Beach police chief, the FBI opened a federal investigation into Epstein, dubbed "Operation Leap Year.'' Documents list the possible crime as "child prostitution.'' A few months later, the FBI began interviewing potential witnesses and victims from Florida, New York, and New Mexico.
In 2007, as the U.S. Attorney's Office was preparing to present the case to a federal grand jury, Epstein's attorneys requested a meeting to discuss the investigation. That June, a 53-page indictment was prepared by the U.S. Attorney's Office as, simultaneously, plea negotiations are initiated with Epstein's legal team. That August, Alexander Acosta, who was then the U.S. attorney in Miami, entered into direct discussions about the plea agreement. In September, federal prosecutors presented several federal plea agreements. They were rejected by Epstein and his attorneys. Epstein signed a non-prosecution agreement on Sept. 24, but his attorneys continued to delay his court appearance.
In October 2007 – with the non-prosecution agreement still being debated – Acosta met with Epstein lawyer Jay Lefkowitz at the West Palm Beach Marriott to discuss finalizing a deal. Among the terms agreed upon: that the victims would not be notified, that the deal would be kept under seal and all grand jury subpoenas would be canceled.
In 2008, with the plea negotiations and the Justice Department review still in limbo, the FBI continues its probe, locating more witnesses and evidence. That March, preparations were made for a new federal grand jury presentation. In court documents, the U.S. Attorney's Office notes that Epstein's victims are being harassed by his lawyers, who are not specifically named. In May, the Justice Department issues a finding that, if a plea deal is not reached, Epstein can be federally prosecuted. Epstein's lawyers revisited the plea negotiations, and on June 30, Epstein appeared in a Palm Beach County courtroom. He pleaded guilty to state charges: one count of solicitation of prostitution and one count of solicitation of prostitution with a minor under the age of 18. He was sentenced to 18 months in jail, followed by a year of community control or house arrest. He is adjudicated as a convicted sex offender who must register twice a year in Florida.
Epstein was released from jail five months early. Despite being placed on probation for a year – confined to his Palm Beach home except to travel to his office in West Palm Beach – records show he made frequent trips to Manhattan and to his home in the U.S. Virgin Islands. According to Law & Crime, the NYPD reportedly allowed Epstein to skip mandatory check-ins.
In September 2009, Epstein's federal non-prosecution agreement was made public. By then, at least a dozen civil lawsuits had been filed by women who allege they were molested by Epstein when they were underage. Epstein settled many of them out of court.
In November 2009, Alfredo Rodriguez, one of Epstein's former butlers, tried to sell a black book filled with the names of hundreds of girls and young women that Epstein allegedly procured for sex and massages to an undercover FBI agent. Rodriguez told FBI agents he witnessed nude underage girls at Epstein's pool and had known that the millionaire was having sex with them. He also said he saw pornography involving underage girls on Epstein's computers. Rodriguez was later charged with obstruction of justice and sentenced to federal prison. He died in 2015. The contents of the black book become public as part of several civil lawsuits.
In 2015, Virginia Roberts Giuffre filed court papers in Florida claiming that she was forced by Epstein to have sex with Prince Andrew and lawyer Alan Dershowitz when she was underage. "In a sworn affidavit, she provides photographs of her with the prince and with Epstein's close associate, British socialite Ghislaine Maxwell. She claims Maxwell worked as Epstein's madam, which she denies. Dershowitz and the prince deny her claims as well, setting off a series of legal actions between Dershowitz and Roberts' attorneys that are later resolved in an out-of-court settlement," Miami Herald reports (https://www.miamiherald.com/news/local/article221404845.html). Later that year, Roberts sued Maxwell in federal court in New York, claiming that Maxwell defamed her in public statements in the media. "The lawsuit is widely viewed as a vessel for Epstein's victims to expose the scope of Epstein's crimes. Several civil lawsuits filed the same year allege that Epstein and Maxwell operated an international sex trafficking operation," explains The Herald (https://www.miamiherald.com/news/local/article221404845.html).
Why did Epstein get such a light sentence?
There are several theories surrounding the unusual treatment of Epstein in light of the serious allegations he has been facing for all these years. The Miami Herald estimates that Epstein had at least 60 victims. Epstein was facing a 53-page federal indictment that could have landed him in federal prison for the rest of his life.
In 2017, Vicky Ward, a reporter who has written about Epstein extensively, published an article titled Jeffrey Epstein's Sick Story Played Out for Years in Plain Sight. In that article – worth a read, or two – Ward explains that when Acosta was being interviewed for the Labor secretary job, he was asked if his involvement in the Epstein case would be a problem during his confirmation hearings:
Acosta had explained, breezily, apparently, that back in the day he'd had just one meeting on the Epstein case. He'd cut the non-prosecution deal with one of Epstein's attorneys because he had "been told" to back off, that Epstein was above his pay grade. "I was told Epstein 'belonged to intelligence' and to leave it alone," he told his interviewers in the Trump transition, who evidently thought that was a sufficient answer and went ahead and hired Acosta. (The Labor Department had no comment when asked about this.) (source)
Was Florida easy on Epstein because he is wealthy and had a powerful legal team?
It is likely that Epstein has a LOT of information on many elites that they'd like to keep private. He has been tied to many people in power for many years. It isn't a stretch to suspect that he's been able to stay out of jail for so long based on his connections.
Epstein is currently registered as a level three sex offender in New York. That designation is the most restrictive and means that the offender poses a danger to the public. So why did the NYPD allegedly allow him to skip mandatory check-ins?
The FBI has a large file on Epstein – part of which can be viewed in the FBI Vault online.
Court records list only two U.S. government representatives – Acosta and Assistant U.S. Attorney Marie Villafana – as parties in the plea agreement Epstein entered, the Associated Press reports.
Threats during the trial
In 2011, The Daily Beast obtained documents that revealed "how the fear and intimidation experienced by victims during pre-trial proceedings, combined with a ferocious, protracted campaign to undermine the prosecution, culminated in a set of charges that became a virtual slap on the wrist."
"Over the past weeks, I have read much regarding Mr. Jeffrey Epstein," are the opening words in an extraordinary letter written by R. Alexander Acosta, the article states. It goes on to discuss other details in Acosta's 2011 letter, but this passage is particularly interesting:
"What followed was a year-long assault on the prosecution and the prosecutors." Epstein had assembled a world-class legal team, including Alan Dershowitz, Kenneth Starr, and Roy Black (best known for having defended William Kennedy Smith against rape charges in Palm Beach.) "One member of the defense team warned me that the office's excess zeal in forcing a good man to serve time in jail might be the subject of a book if we continued," Acosta writes. In his view, excessive zeal more aptly described the actions in Epstein's camp: "Defense counsel investigated individual prosecutors and their families," seeking to unearth personal issues that might lead to disqualification of members of Acosta's team. The defense also "often failed to negotiate in good faith. They would obtain concessions as part of a negotiation and agree to proceed, only to change their minds, and appeal the office's position to Washington." (source)
Acosta is facing harsh criticism for how he handled the Epstein case. The reasons are quite complicated and involve a lot of legal analysis that is out of the scope of this article. If you'd like more in-depth information on how Acosta handled the Epstein case in Florida, give the following articles a read:
In the Above the Law article Jeffrey Epstein's Arrest Forces Us To Ask: Which Dirtbag Lawyers In This Case Will Face Their Own Music? editor Joe Patrice identifies a "Venn diagram" of "lawyers who enabled a sexual predator".
What was found in Epstein's New York home?
In a bail memo released Monday morning, prosecutors say they found the following in Epstein's New York residence:
Finally, despite having been previously convicted of a sex offense involving an underage victim, the defendant has continued to maintain a vast trove of lewd photographs of young-looking women or girls in his Manhattan mansion. In a search of the New York Residence on the night of his arrest, on July 6-7, 2019, pursuant to judicially-authorized warrants, law enforcement officers discovered not only specific evidence consistent with victim recollections of the inside of the mansion, further strengthening the evidence of the conduct charged in the Indictment, but also at least hundreds—and perhaps thousands—of sexually suggestive photographs of fully- or partially nude females.

While these items were only seized this weekend and are still being reviewed, some of the nude or partially-nude photographs appear to be of underage girls, including at least one girl who, according to her counsel, was underage at the time the relevant photographs were taken.

Additionally, some of the photographs referenced herein were discovered in a locked safe, in which law enforcement officers also found compact discs with hand-written labels including the following: "Young [Name] + [Name]," "Misc nudes 1," and "Girl pics nude." The defendant, a registered sex offender, is not reformed, he is not chastened, he is not repentant; rather, he is a continuing danger to the community and an individual who faces devastating evidence supporting deeply serious charges. (source)
On July 11, in the article Bizarre art, porn and dolls: Inside Jeffrey Epstein's New York house of horrors, Fox News reported:
The Upper East Side home, essentially gifted to Epstein by wealthy retail magnate Leslie Wexner, stands seven stories tall and is considered one of the largest townhomes in New York City. It's estimated to be valued around $56 million. Epstein, who has flitted between his Manhattan home and residences in Paris, Palm Beach, Florida, and New Mexico, is accused of abusing a number of girls across his properties. Public records show that the home was officially transferred to Maple, Inc., an LLC controlled by Epstein, for no money in 2011. (source)
Here are a few more excerpts from that article:
During a raid conducted by the FBI and NYPD after Epstein's arrest, authorities said they found in a locked safe a trove of pornographic material featuring apparently underage girls.

Epstein, to be sure, commissioned artwork for the home. Specifically, he had a massive, photorealistic mural of a prison yard painted, with Epstein in the center. According to R. Couri Hay and The New York Times, Epstein had the mural commissioned because "there is always a possibility that could be me again."

Other oddities of the home have come to light in the wake of Epstein's arrest and incarceration.

According to an article in New York magazine, Epstein has a heated sidewalk, a hallway adorned with dozens of individually framed prosthetic eyeballs from England, a massive, life-like human doll hanging from a chandelier and a human-sized chessboard with scantily clad figurines modeled after his employees.

In a recent interview with NBC News, Jennifer Araoz said she was abused and raped by Epstein when she was just 15 years old.

"He had a bathtub that was kind of like opened, and there was prosthetic breasts that he could play with while he was taking a bath, I guess," Araoz said in the interview. (source)
In $56 Million Upper East Side Mansion Where Epstein Allegedly Abused Girls, the New York Times lists other items that were seen in Epstein's NY home, which include
…framed photographs of celebrities and dignitaries, including a signed photograph of former President Bill Clinton. A wall of the study was covered with photographs of famous people, including Woody Allen, and another that Mr. Epstein pointed out was of Crown Prince Mohammed bin Salman of Saudi Arabia. (source)
Last year, The Miami Herald (https://www.miamiherald.com/news/local/article220097825.html) reported that Palm Beach police photographed several items in Epstein's home, including what appears to be a massage chair or dental chair: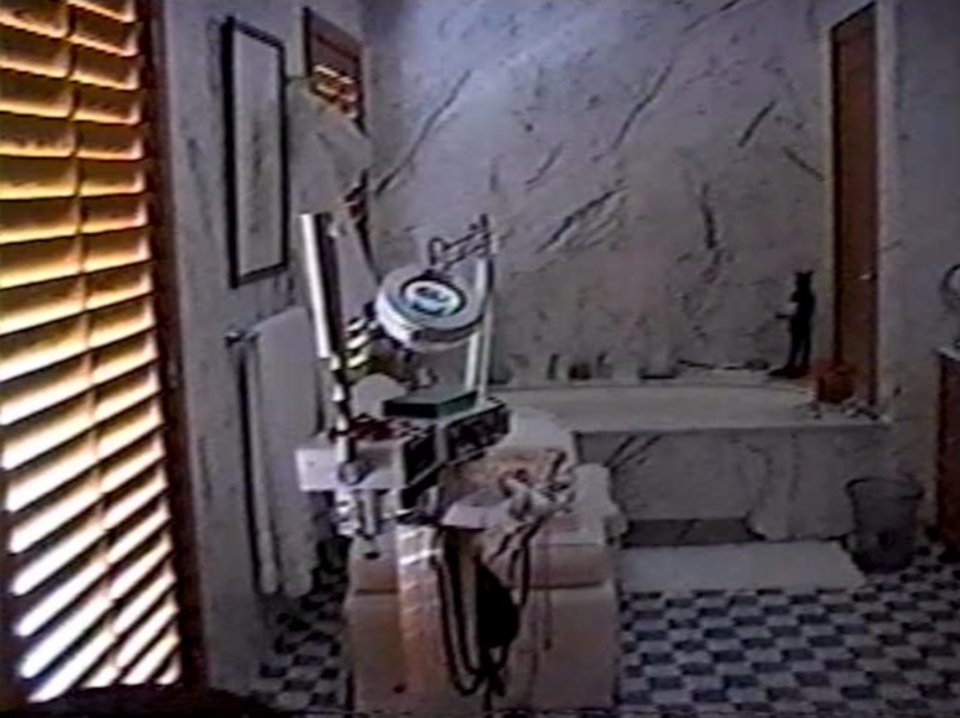 According to Ryan Grim, DC bureau chief for The Intercept, Epstein ordered a 550 lb "dental unit," which appears to be a dental chair, in 2013.
Epstein's private island home is even more bizarre.
In Whispers, suspicion about Epstein on Caribbean island, the Associated Press describes how residents feel about Epstein:
Ask about Jeffrey Epstein on St. Thomas and rooms go quiet. Some people leave. Those who share stories speak in barely audible tones.

The 66-year-old billionaire bought Little St. James Island off this U.S. Caribbean territory more than two decades ago and began to transform it — clearing the native vegetation, ringing the property with towering palm trees and planting two massive U.S. flags on either end. When guides took scuba divers to spots near the island, security guards would walk to the water's edge.

It was off-putting to residents of St. Thomas — a lush tropical island east of Puerto Rico with winding roads through mountains dotted with dainty Danish colonial-era homes. Then, when Epstein pleaded guilty in a 2008 to soliciting and procuring a minor for prostitution, his need for privacy began to appear more sinister.

"Everybody called it 'Pedophile Island,'" said Kevin Goodrich, who is from St. Thomas and operates boat charters. "It's our dark corner." (source)
Epstein also bought neighboring Great St. James Island, which once was popular with locals and tourists for its main attraction, Christmas Cove, a place where you could hang out and order pizza and have it delivered via boat.
"He wasn't well received," Spencer Consolvo, a St. Thomas native who runs a tourist shop near a large marina, told the AP. "People think he's too rich to be policed properly."
Federal authorities consider the smaller of the two islands to be Epstein's primary residence in the United States, a place where at least one alleged victim said in a court affidavit that she participated in an orgy, as well as had sex with Epstein and other people. She said she saw former U.S. President Bill Clinton on the island, but that she never saw him having sex with anyone. A Clinton spokesman issued a statement saying he never visited there. (source)
There is a building that looks like a temple on Epstein's island.
Little Saint James is home to a very odd structure. No one seems to know what exactly the building is, but there is a lot of speculation going on (as with most things Epstein).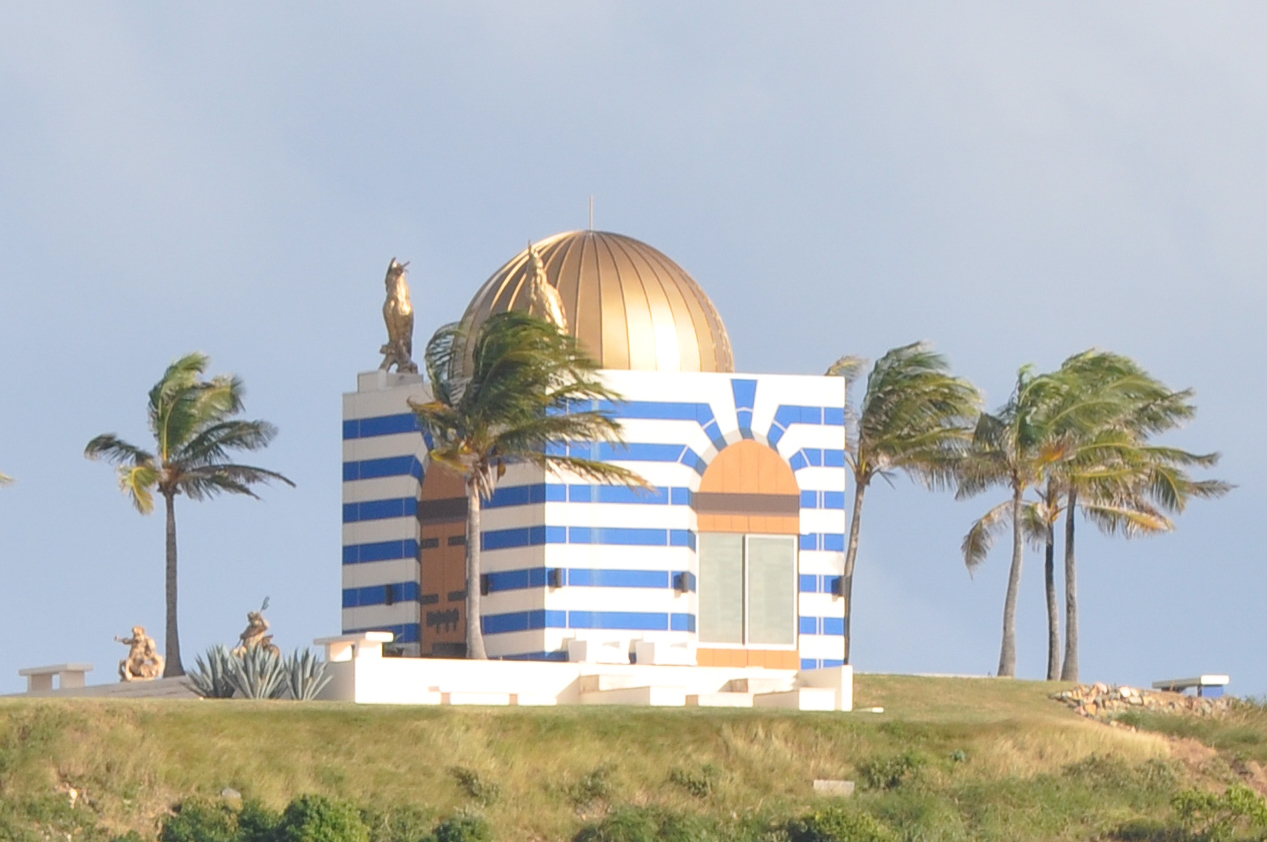 The structure can be viewed on Google Earth. A massive trove of drone images that are said to be of the island and this structure can be found here: Epstein Island drone pics.
"Workers told each other it was a music room fitted with a grand piano and acoustic walls," the AP reports.
Business Insider notes that certain features of the "temple" raise even more questions:
When INSIDER consulted James Both, a contractor and engineer based in Chicago, he first pointed to the wooden door. "It's styled like what you might see on a castle, with what appears to be a reinforcing lock bar across the face," he said. "What makes it peculiar is that if you wanted to keep people out, the bar would be placed inside the building, [but the] locking bar appears to be placed on the outside … as if it were intended to lock people in." (source)
"Downhill from the structure, at the end of a service path that branches from the main road leading to the building, lies what appears to be a smaller structure or entrance," BI reports. Google Maps images show the "temple" and what looks like a door at the end of a path. It appears to be an entrance to a tunnel, but it is hard to say for sure: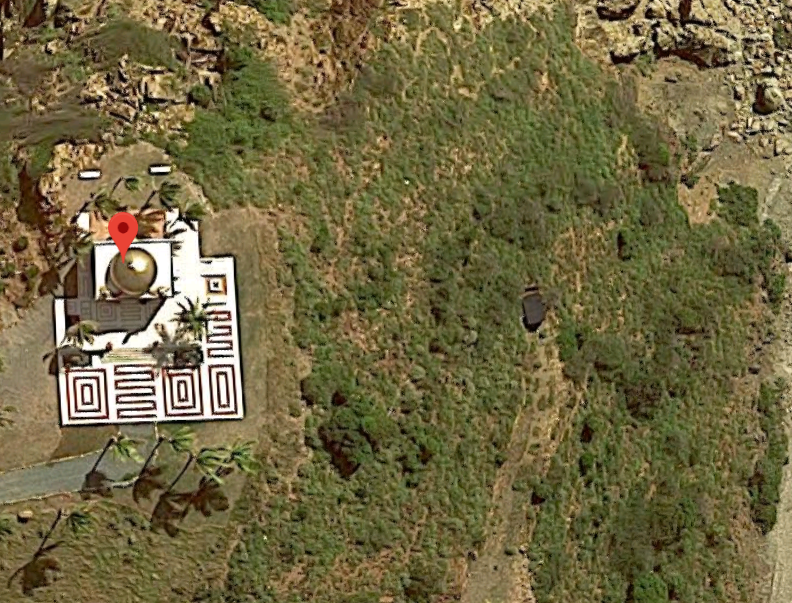 Here's more from Business Insider:
The smaller structure is significant if only because it could theoretically offer a second method of accessing or leaving the larger building, which in turn would suggest the presence of a hidden structure underneath it.

This possibility has gained some currency among online conspiracy theorists, some of whom believe Epstein erected the building to serve as a secluded facility for abusing children. Others have floated the hypothesis that it conceals an elevator shaft, which in turn accesses a subterranean lair where the same abuse occurred. Both groups have referred to the building as a "temple."

There is some evidence that the larger building and the smaller structure are related to one another. According to historical satellite imagery made available by Google Earth, both were constructed sometime between 2009 and 2013. (source)
To view aerial drone footage of the island from 2014, click here: Jeffrey Epstein Private Island – Little St. James, U.S.V.I.
Epstein got some mysterious deliveries.
On July 9, 2019, The Intercept reported some troubling information:
Jeffrey Epstein shipped himself a 53-pound shredder and a carpet and tile extractor, maritime records show

Jeffrey Epstein shipped a shredder from the U.S. Virgin Islands to his Palm Beach home in July 2008, shortly after reaching a non-prosecution agreement with then-U.S. Attorney Alex Acosta, maritime records show. Then, in March of this year, shortly after a Florida federal judge invalidated that agreement, Epstein shipped a tile and carpet extractor from the Virgin Islands to his Manhattan townhouse, the records show.

On March 11, 2019, Epstein got a new shipment from the port in the U.S. Virgin Islands. This time, it was sent to his New York townhouse, and it's listed in maritime records as a tile and carpet extractor that weighed 191 pounds. (source)
How did Epstein earn his money?
Epstein is often referred to as a "billionaire" but many are beginning to question that descriptor.
In the Forbes article Why Sex Offender Jeffrey Epstein Is Not A Billionaire, Noah Kirsch writes,
Forbes has never included Epstein, 66, in its rankings of the World's Billionaires, since there is scant proof he holds a ten-figure fortune. As we wrote in 2010, "The source of his wealth—a money management firm in the U.S. Virgin Islands—generates no public records, nor has his client list ever been released." (source)
Kirsch goes on to reference that 2010 article, written by Clare O'Connor, who wrote that Epstein is "NOT A BILLIONAIRE. We repeat: not a billionaire. More likely he is worth a fraction of that. Because of so much uncertainty around his numbers, he's never been included in The Forbes 400 list of the richest Americans.":
The source of his wealth—a money management firm in the U.S. Virgin Islands—generates no public records, nor has his client list ever been released. One known client, Leslie Wexner, billionaire founder of The Limited clothing chain, was widely believed to be his benefactor for years and the major source of his wealth: At one time, Epstein was listed as a trustee of The Wexner Foundation, and Wexner reportedly bought Epstein a $13 million New York apartment.

But once Epstein was charged with engaging in sexual activity with minors, Wexner dropped his old friend, replacing him with JPMorgan's Dennis Hersch. Without Wexner's backing, Epstein is almost certainly not a billionaire—so why is he continually labeled one in the press? (source)
"When asked to turn over his finances to the Florida court in May to establish punitive damages, Epstein's lawyers "agreed to a confidential stipulation that his net worth is in excess of nine figures," O'Connor wrote.
"It was a bone of contention with Epstein's lawyers," said Spencer Kuvin, an attorney who represented three of Epstein's alleged victims on the case, of the "billionaire" designation. "In the litigation itself we were never able to get him to produce verified financial information. The 'nine figures' came by negotiation. It kept going up and up and up. They started at zero—they wouldn't tell us at all."

Kuvin added that he and his team "pursued every possible angle" to find out Epstein's net worth but found that much of his wealth is offshore. "We'll never know now because everything was resolved out of court," he said. (source)
4 ways Epstein may have acquired his wealth
An Intelligencer report titled How Jeffrey Epstein Made His Money: Four Wild Theories examines possible ways Epstein amassed his alleged fortune:
After sex-trafficking charges were handed down on Monday, executive-suite financiers discussed how absent Epstein was from the field: "He's supposed to run an enormous FX [foreign-exchange] trading firm," said Enrique Diaz-Alvarez, chief risk officer at Ebury. "But I never once heard of him or his firm or anyone who worked or traded with him." (source)
The four theories Intelligencer outlines are:
#1: Ponzi scheme
A Ponzi scheme has been floated as a possible source of Epstein's wealth since as early as 2009, when Business Insider noted that multiple red flags pointed to a possible Madoff-like fraud. The secrecy of his client list; the "administrative" nature of all 150 of his employees in 2002; the absolute control over investors' money, and the $1 billion basement investment required — all signs could point to Ponzi, although there's no concrete evidence. (source)
#2: Blackmail
As reported earlier in this article, the bail memo stated that "some of the photographs referenced herein were discovered in a locked safe, in which law enforcement officers also found compact discs with hand-written labels including the following: "Young [Name] + [Name]," "Misc nudes 1," and "Girl pics nude.""
This has led some to believe that Epstein was blackmailing his famous and influential friends.
In a 2015 court filing, alleged Epstein victim Virginia Roberts Giuffre claims that U.S. authorities were in possession of footage of her having sex with members of Epstein's elite friend group:
"Based on my knowledge of Epstein and his organization, as well as discussions with the FBI, it is my belief that federal prosecutors likely possess videotapes and photographic images of me as an underage girl having sex with Epstein and some of his powerful friends," she said. Giuffre claimed that Epstein "debriefed her" after she was forced into sexual encounters so that he could possess "intimate and potentially embarrassing information" to blackmail friends into parking their money with him. (source)
This theory makes sense – why else would Epstein hold on to so much evidence of his alleged crimes?
#3: Epstein Belongs to Intelligence
Earlier this week, we reported that some are speculating Epstein may be funded by the Israeli spy agency Mossad:
There are additional bizarre details in the Epstein story, as Michael Krieger explains in The Jeffrey Epstein Rabbit Hole Goes a Lot Deeper Than You Think. Krieger works through a series of connections (to read them, click on the link to his article – his points are made in a series of Tweets) and eventually forms a theory that Epstein's entire operation was designed to ensnare the rich and powerful – and that the billionaire may be funded by Israeli spy agency Mossad.

Earlier this year, Derrick Broze (the journalist who interviewed Edwards in the video I embedded earlier in this article) posted a video analysis and compilation of links to articles that support that theory. That video and Broze's sources can be viewed here: The Evidence for Jeffrey Epstein's Mossad Connection. (source)
As we mentioned earlier in this article, Acosta allegedly hinted he was told Epstein "belonged to intelligence":
Acosta had explained, breezily, apparently, that back in the day he'd had just one meeting on the Epstein case. He'd cut the non-prosecution deal with one of Epstein's attorneys because he had "been told" to back off, that Epstein was above his pay grade. "I was told Epstein 'belonged to intelligence' and to leave it alone," he told his interviewers in the Trump transition, who evidently thought that was a sufficient answer and went ahead and hired Acosta. (The Labor Department had no comment when asked about this.) (source)
#4: Offshore tax schemes/money laundering
Because so little is known about Epstein's alleged clients, how much he is actually worth, and exactly how he earns money, some speculate that he is involved in some tax schemes and/or money laundering:

According to a well-developed, if factually void, pan-conspiracist take from finance Twitter's Quantian, Epstein could have blackmailed his social circle into investing with him, then dumped the cash in an offshore account to avoid taxes. Or, similar to the Ponzi scheme conspiracy — and, again, without basis in fact — there is so little paperwork on the funds that the whole thing could just be a rig for money laundering. (source)
In 1976, Epstein joined Bear Stearns as a floor trader's assistant, making partner in a mere four years. By 1981, he was out, setting up the J. Epstein & Co. money-management business the next year.
New York Mag described his business strategy in 2002:
In 1982, according to those who know Epstein, he set up his own shop, J. Epstein and Co., which remains his core business today. The premise behind it was simple: Epstein would manage the individual and family fortunes of clients with $1 billion or more. Which is where the mystery deepens. Because according to the lore, Epstein, in 1982, immediately began collecting clients. There were no road shows, no whiz-bang marketing demos — just this: Jeff Epstein was open for business for those with $1 billion–plus.

He would take total control of the billion dollars, charge a flat fee, and assume power of attorney to do whatever he thought was necessary to advance his client's financial cause. And he remained true to the $1 billion entry fee. According to people who know him, if you were worth $700 million and felt the need for the services of Epstein and Co., you would receive a not-so-polite no-thank-you from Epstein. (source)
Investigative reporter Vicky Ward, who wrote a 2003 Vanity Fair profile of Epstein and has reported on him many times since, wrote that Epstein provided services in the 1980s to Steven Jude Hoffenberg, a financier who in 1995 pleaded guilty to running a Ponzi scheme.
How much does Trump know about Epstein?
It is no secret that Trump knows Epstein and has socialized with him in the past. Many media outlets seem determined to link the president with him. Indeed, there are several legitimate photos of the two men together, from years ago. Trump claims to have cut ties with Epstein years ago.
It is important to remember that while Trump, Clinton, Dershowitz, and many other public figures know Epstein and have been seen with him, there currently isn't any proof that any of these men sexually assaulted any women while with Epstein. Trump, Clinton, and Dershowitz all have faced allegations of sexual assault and rape (some claims appear credible, some are questionable), but as of the time of this writing, none of them have been charged with any crimes.
It is also important to understand that some photoshopped images are circulating of Epstein with various people, including Trump. There is a Wikipedia editing war occurring as well – people are editing the Jeffrey Epstein page to remove references to Clinton and add references to Trump – and vice-versa.
There is, however, an intriguing article on Vanity Fair that raises some questions about how much Trump knows about Epstein and his relationship with Bill Clinton. In "He Said Not to Tell Anyone": How Trump Kept Tabs on Jeffrey Epstein, Emily Jane Fox writes:
In the months before he ran for president, Donald Trump was in conversation with National Enquirer owner David Pecker about his old acquaintance, Jeffrey Epstein, and how his sexual abuse scandal might affect the Clintons. "Trump said that Pecker had told him that the pictures of Clinton that Epstein had from his island were worse," recalls a former Trump Organization employee.

Perhaps the most revealing commentary Donald Trump has offered on Jeffrey Epstein, the disgraced financier who pleaded not guilty this week to sex trafficking and conspiracy, occurred in late February 2015, onstage at the annual Conservative Political Action Conference. Trump, then flirting with a presidential run, was fielding softballs from Fox News host Sean Hannity when a lightning round of questions turned to a favorite topic: Bill Clinton. "Nice guy, Trump said. "Got a lot of problems coming up, in my opinion, with the famous island with Jeffrey Epstein," he added, seemingly veering off topic. "Lot of problems." (source)
If Pecker really does have incriminating photos of Clinton, why haven't they been given to the FBI or shared with the public? Perhaps he is waiting for the right moment.
Bill Clinton issued a statement about his relationship with Epstein.
Bill Clinton has long been tied to Epstein, and was one of the most famous and frequent passengers on Epstein's "Lolita Express". Epstein donated money to the Clinton Foundation even after his conviction. For more on the Clintons' ties to Epstein, see The Billionaire Pedophile Who Could Bring Down Donald Trump and Hillary Clinton and this report from The Miami Herald: Explore Epstein's connections (https://www.miamiherald.com/news/local/article221897990.html).
On May 13, 2016, Fox News reported:
Former President Bill Clinton was a much more frequent flyer on a registered sex offender's infamous jet than previously reported, with flight logs showing the former president taking at least 26 trips aboard the "Lolita Express" — even apparently ditching his Secret Service detail for at least five of the flights, according to records obtained by FoxNews.com.

Clinton's presence aboard Jeffrey Epstein's Boeing 727 on 11 occasions has been reported, but flight logs show the number is more than double that, and trips between 2001 and 2003 included extended junkets around the world with Epstein and fellow passengers identified on manifests by their initials or first names, including "Tatiana." The tricked-out jet earned its Nabakov-inspired nickname because it was reportedly outfitted with a bed where passengers had group sex with young girls.

Official flight logs filed with the Federal Aviation Administration show Clinton traveled on some of the trips with as many as 10 U.S. Secret Service agents. However, on a five-leg Asia trip between May 22 and May 25, 2002, not a single Secret Service agent is listed. The U.S. Secret Service has declined to answer multiple Freedom of Information Act requests filed by FoxNews.com seeking information on these trips. Clinton would have been required to file a form to dismiss the agent detail, a former Secret Service agent told FoxNews.com. (source)
On Monday, Angel Ureña, Clinton's Press Secretary, shared the following statement on Twitter: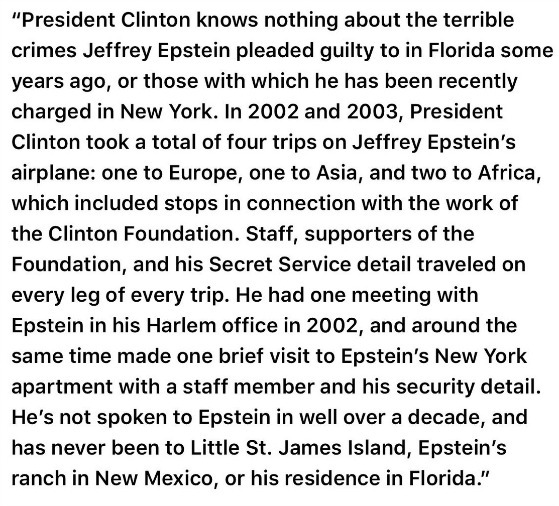 "According to investigative journalist, author, and executive director of Alliance to Rescue Victims of Trafficking (ATRVT) Conchita Sarnoff, former President Bill Clinton is lying when he says he "knows nothing" of Jeffrey Epstein's sexual predation," reports Law & Crime:
Sarnoff, who first broke the story in 2010 and later wrote a book on her findings, said that these figures are inaccurate and that Clinton was on the plane far more often than he admitted.

"I know from the pilot logs and these are pilot logs that you know were written by different pilots and at different times that Clinton went, he was a guest of Epstein's 27 times," Sarnoff said, adding that "many of those times Clinton had his Secret Service with him and many times he did not."

"Almost every time that Clinton's name is on the flight logs, there are underage girls there. There are initials and there are names of many, many girls on that private plane," Sarnoff added. (source)
Ghislaine Maxwell, Epstein's alleged partner-in-crime, attended Chelsea Clinton's wedding.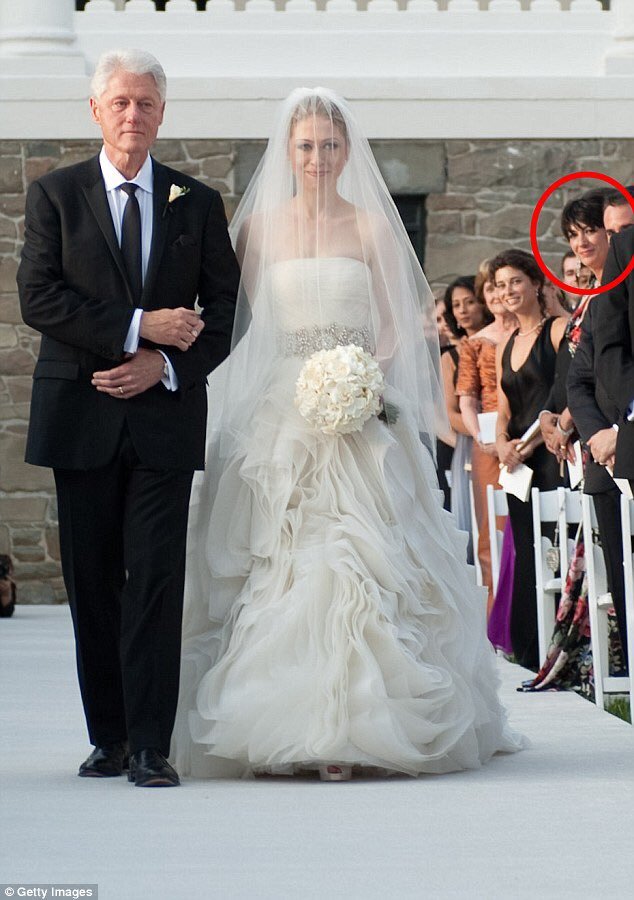 Who is Ghislaine Maxwell?
Ghislaine Maxwell is a British socialite with vast connections among the international elite. She also is Epstein's alleged madam and former girlfriend.
Maxwell has been accused of aiding and abetting Epstein's abuse and grooming underaged girls for Epstein and his associates but has vehemently denied these allegations. She has never been formally charged for her alleged involvement with Epstein's sex trafficking ring.
Law & Crime provides more details on Maxwell:
Born and educated in England, Ghislaine Maxwell is the daughter of disgraced publishing mogul Robert Maxwell. Before coming to America following her father's suicide in 1991, Maxwell attended the exclusive boarding school Marlborough College and Oxford University. Once in America, however, she became a socialite, mixing and mingling with the likes of the Clintons and Prince Andrew. It was in America that she met Epstein and started dating him. They later reportedly broke up but stayed close friends.

In 2015, a woman named Virginia Roberts (now Giuffre) came forward and accused Maxwell of aiding Epstein with the solicitation of minors, including herself, for him and his guests to abuse.

A second lawsuit appeared last December this time from an adult woman named Sarah Ransome who claimed Maxwell and Epstein coerced her into sex. A key difference in this case, however, is that Ransome was in her twenties at the time of the alleged assault. This suit was withdrawn following a settlement.

A third lawsuit appeared this past April, this time from a woman named Maria Farmer. She came forward with a sworn affidavit that Epstein sexually assaulted her in the 1990s and that Maxwell molested her 15-year-old sister. (source)
Town & Country provides us with more information on Maxwell:
Much like Epstein, her social circle also encompassed Britain's Prince Andrew; a Palm Beach set which included Donald Trump and the Clinton family—she even attended Chelsea Clinton's 2010 wedding.

As Epstein finds himself facing new charges relating to his history of sex with underage girls, the narrative playing out in the op-ed pages and on social media, promoted by everyone from New York Times op-ed columnist Michelle Goldberg to the actress Ellen Barkin, depicts Ghislaine as someone closely tied to the billionaire financier's activities. (source)
As of the time of this writing, Maxwell has not been arrested.
What will come of all of this?
It is really hard to say what will come of all of this. Will Epstein serve hard time for his alleged crimes? Or will he receive a slap on the wrist as he did in Florida back in 2008?
Unfortunately, child sex trafficking is a huge problem in the United States (and much of the world). In the article The Heart of Darkness: The Sexual Predators Within America's Power Elite, John W. Whitehead explains how shockingly common it is:
This is part of America's seedy underbelly.

As I documented in the in-depth piece I wrote earlier this year, child sex trafficking—the buying and selling of women, young girls and boys for sex, some as young as 9 years old—has become big business in America. It is the fastest growing business in organized crime and the second most-lucrative commodity traded illegally after drugs and guns.

Adults purchase children for sex at least 2.5 million times a year in the United States.

It's not just young girls who are vulnerable to these predators, either.

According to a 2016 investigative report, "boys make up about 36% of children caught up in the U.S. sex industry (about 60% are female and less than 5% are transgender males and females)."

Who buys a child for sex?

Otherwise ordinary men from all walks of life. "They could be your co-worker, doctor, pastor or spouse," writes journalist Tim Swarens, who spent more than a year investigating the sex trade in America. (source)
What do you think?
Will Epstein face actual time for his crimes if he is found guilty? Will he bring down others with him? How widespread do you think his alleged network is? Please share your thoughts in the comments.
About the Author
Dagny Taggart is the pseudonym of an experienced journalist who needs to maintain anonymity to keep her job in the public eye. Dagny is non-partisan and aims to expose the half-truths, misrepresentations, and blatant lies of the MSM.