Last Minute Christmas Treats…without a Trip to the Store
(Psst: The FTC wants me to remind you that this website contains affiliate links. That means if you make a purchase from a link you click on, I might receive a small commission. This does not increase the price you'll pay for that item nor does it decrease the awesomeness of the item. ~ Daisy)
By Daisy Luther
Do you need to whip up some last minute goodies for a holiday soiree? Are you desperate to avoid a trip to the grocery store on Christmas Eve? You probably have everything you need to bake these delicious treats!
Basic "Chip" Cookie Recipe
We have used all sorts of goodies in this recipe – for Christmas baking this year we used white chocolate chips and dried cranberries. This recipe makes the best light, soft chocolate chip cookies I've ever had, too! Whatever kind of chips that you have on hand will turn this basic recipe into a delicious custom treat!
Ingredients
1 cup of muscovado or other brown sugar
1/2 cup of melted coconut oil
1/2 cup plain nonfat yogurt
2 tsp vanilla extract
1- 3/4 cups flour
1/2 tsp baking soda
1/2 tsp salt
2 cups of chips (chocolate, white chocolate, Skor – whatever!)
Directions
Preheat the oven to 375 degrees F (190 degrees C).
Grease cookie sheets (I use coconut oil for this)
With a fork, mix the sugar, vanilla, coconut oil and yogurt until light and fluffy.
Sift together the flour, baking soda, and salt and then stir into the creamed mixture until incorporated.
then mix in chocolate chips. Drop by rounded teaspoonfuls 2 inches apart onto the prepared cookie sheets.
Bake for 8 to 10 minutes in the preheated oven, until the edges begin to brown. Cool for a minute on the cookie sheets before removing to wire racks to cool completely.
Haystack Cookies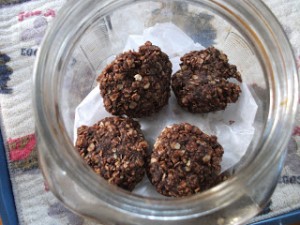 Ingredients:
3 cups of oatmeal
¾ cup of sugar
¾ cup of milk
5 tsp of cocoa
1 tbsp of vanilla extract
1 cup of natural peanut butter
Directions:
Line a large baking sheet with waxed paper.
In a sauce pan, stir together all of the ingredients except for the peanut butter and the oatmeal.
Heat until these ingredients are combined then add peanut butter, stirring constantly until boiling gently.
Boil for one minute, stirring intermittently.
Remove from heat and pour into a bowl containing the oatmeal.
Stir to combine, working quickly before the mixture can solidify.
Make the cookies by placing large spoonfuls of the mixture onto the paper-lined baking sheet. Press them down gently with the back of the spoon.
Alternatively, use your hand to roll balls of the mixture and then press down – this will make the resulting cookies a bit rounder if you prefer a tidier looking cookie. (Be careful, though – the mixture is hot, that whole boiling thing, you know!)
Place the cookie sheet in the refrigerator overnight, uncovered, to allow cookies to become solid.
Store in an airtight container in cool conditions – keep them in the fridge if the weather is warm. Reuse the waxed paper by placing it in between the layers of cookies.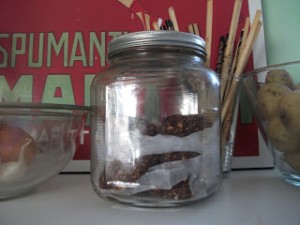 Ginger Molasses Cookies
Ingredients
2 cups of flour
1/2 cup of turbinado or white sugar
2 Tbsp ginger powder
1/3 cup molasses
1/3 cup of applesauce
1/3 cup melted coconut oil ( you can't taste the coconut at ALL – don't worry!)
1 tsp salt
1 tsp cinnamon
1/2 tsp of powdered cloves
1 tsp vanilla extract
1/2 tsp baking soda
2 tsp baking powder
Directions
Preheat the oven to 375 degrees F/ 190 degrees C.
In a large mixing bowl, combine the dry ingredients with a fork: flour, sugar, ginger powder, cinnamon, salt, baking soda/powder.
In a second bowl, combine the melted coconut oil, applesauce, molasses, and vanilla extract.
Stir the wet ingredients into the dry ingredients until you have a moist dough. If you need to, add a tsp of water at a time in order to reach a consistency that feels like playdough.
Optional step – you can put the dough in the freezer for half an hour, then roll it out and use cookie cutters.Otherwise, roll the dough into balls, roll the balls in sugar and place on a greased cookie sheet, about 2 inches apart.
Bake at 375 for 8-10 minutes. They will come out of the oven looking as though they aren't done – but they are! Let them cool on the cookie sheet for a minute, then use a spatula to move them to cooling racks for at least 15 minutes for best results.
Note: this procedure makes a nice soft ginger cookie – if you want a crisp ginger snap, roll them out thin and bake for 10-12 minutes.
Blondies
Ingredients
½ cup of oil (I use coconut oil)
½ cup apple sauce
1 teaspoon vanilla
1 cup turbinado sugar
1 ½ cups all-purpose flour
½ teaspoon baking powder
½ teaspoon salt
1 cup of Skor or butterscotch chips
Directions
Preheat oven to 350 degrees F.
Mix together oil, apple sauce, sugar and vanilla.
Stir in flour, baking powder, and salt until well combined.
Pour/scoop batter into a well-greased pan and Spread it with a spatula.
Sprinkle Skor or butterscotch chips on top of the batter, covering evenly.
Bake for 25-30 minutes, until the top feels firm when gently pressed.
Cut into squares and remove from the pan to a cooling rack.
Chocolate Shortbread Cookies
Ingredients
1-1/8 cups of flour
1 cup of unsweetened cocoa powder
1 teaspoon salt
1 cup of salted butter, softened
2/3 cup of icing sugar
Directions
Preheat oven to 350 degrees F/175 degrees C.
Sift together flour, cocoa, and salt.
Using a hand mixer, beat butter and sugar until combined.
Pat dough into an ungreased pan. The dough won't really hold together and you will think that it needs more moisture – but it doesn't! Trust me!
Bake for 20 to 25 minutes. Allow it to cool for 5 minutes, then remove from the pan and cut into squares.
Sprinkle with icing sugar and allow the cookies to cool.
VARIATION:
Instead of patting the cookie dough into a pan, squeeze together small balls of dough and place them on a cookie sheet.
Press your thumb into the cookie ball.
Fill the thumbprint with raspberry jam, crushed candy canes, or Nutella.
Bake for 20 minutes.
Remove from the pan and place on a rack to cool. You can sprinkle the cookie lightly with icing sugar if desired.
About the Author
Daisy Luther is a coffee-swigging, globe-trotting blogger. She is the founder and publisher of three websites.  1) The Organic Prepper, which is about current events, preparedness, self-reliance, and the pursuit of liberty on her website, 2)  The Frugalite, a website with thrifty tips and solutions to help people get a handle on their personal finances without feeling deprived, and 3) PreppersDailyNews.com, an aggregate site where you can find links to all the most important news for those who wish to be prepared. She is widely republished across alternative media and  Daisy is the best-selling author of 5 traditionally published books and runs a small digital publishing company with PDF guides, printables, and courses. You can find her on Facebook, Pinterest, Gab, MeWe, Parler, Instagram, and Twitter.