How to Make Your Own Pumpkin Spice Latte Creamer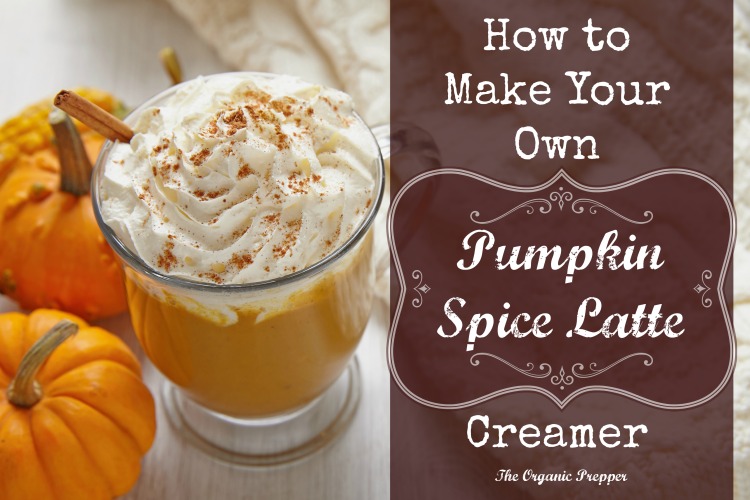 Even if the weather hasn't cooled off where you live, the coffee shops have declared that autumn has arrived by rolling out their Pumpkin Spice everything.
But…there are a couple of kickers.
First of all, who can afford a daily diet of $5 coffees? If you count Sept. 1 through Nov. 30 as "fall" and you consume a pumpkin spice latte every day, that's 91 days. At $5 a pop, if you only have one per day, that is a whopping $455 in pumpkin spice beverages.
Secondly, ick.
If you read about the ingredients in the be-all, end-all pumpkin spice latte, the one from Starbucks, you'll find that it doesn't even contain pumpkin. Here is the ingredients list, right from Starbucks.
Milk, Pumpkin Spice Sauce [Sugar, Condensed Skim Milk, Pumpkin Puree, Contains 2% Or Less Of Fruit And Vegetable Juice For Color, Natural Flavors, Annatto, Salt, Potassium Sorbate], Brewed Espresso, Whipped Cream [Cream (Cream, Milk, Mono And Diglycerides, Carrageenan), Vanilla Syrup (Sugar, Water, Natural Flavors, Potassium Sorbate, Citric Acid)], Pumpkin Spice Topping [Cinnamon, Ginger, Nutmeg, Clove, Sulfiting Agents].
For a breakdown on why these ingredients aren't things you want in your day-to-day diet, check out Food Babe's breakdown of the PSL here.
But you can do better. Much, much better.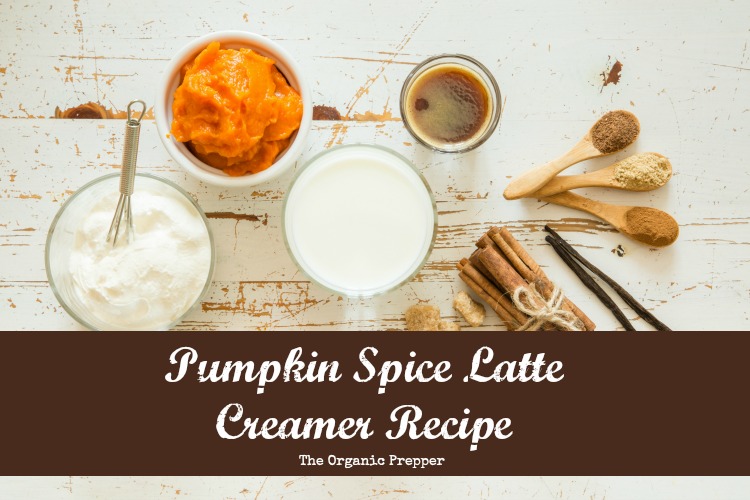 With a DIY Pumpkin Spice Creamer, you can have your own fancy coffee beverage at a fraction of the price, any time you want. And it's WAY better for you, too. Here's what you need.
Ingredients:
2 cups of your favorite kind of unsweetened milk (cow's milk, half-and-half, goat's milk, almond milk, cashew milk, coconut milk, or reconstituted dry milk if you are making this from stockpile ingredients…whatever you prefer)
1/4 cup of brown sugar (you can also use honey or a new low-carb, organic sweetener we discovered that we really like, Agave 5)
3 tbsp of  pumpkin puree
2 tsp of pumpkin pie spice
1 tsp of cinnamon
1 teaspoon vanilla extract
Directions:
In a small saucepan, use a low heat to bring your milk and sugar (or other sweetener) to a simmer.
Stir in all of the other ingredients, whisking constantly.
Simmer for a couple of minutes until the ingredients are incorporated. Your spices will not dissolve, so unlike the coffee shop variety, your real, delicious, actual spices will speckle your creamer with goodness.
Allow the mixture to cool, then pour it into a Mason jar.
Store it in the refrigerator and use liberally in your coffee.
Note: the mixture WILL separate. You'll have to shake it well before using it.
If you want to be fancy, put some whipped cream on top and sprinkle a teeny bit of pumpkin spice on it.
That's it. Simple. Frugal. Delicious.
(And way better for you than the stuff those other guys want to charge you $5 for!)
About the Author
Please feel free to share any information from this site in part or in full, leaving all links intact, giving credit to the author and including a link to this website and the following bio. Daisy is a coffee-swigging, gun-toting, homeschooling blogger who writes about current events, preparedness, frugality, and the pursuit of liberty on her website, The Organic Prepper. Daisy is the publisher of The Cheapskate's Guide to the Galaxy, a monthly frugality newsletter, and she curates all the most important news links on her aggregate site, PreppersDailyNews.com. She is the best-selling author of 4 books and lives in the mountains of Virginia with her two daughters and an ever-growing menagerie. You can find Daisy onFacebook, Pinterest, and Twitter.