(Psst: The FTC wants me to remind you that this website contains affiliate links. That means if you make a purchase from a link you click on, I might receive a small commission. This does not increase the price you'll pay for that item nor does it decrease the awesomeness of the item. ~ Daisy)
by Daisy Luther and Dagny Taggart
Nobody was really surprised when it was reported last weekend that Jeffrey Epstein was found dead in his jail cell of an apparent "suicide." And also, nobody really believed the official story. I find it heartening to know that the American people no longer swallow the stories without question.
The results of our informal poll over the weekend show that hardly any of our readers believe that an egomaniacal narcissist like Epstein would have voluntarily killed himself.

You can still pop over to go vote in this poll.
So what happened to Jeffrey Epstein? Here are 5 theories aside from the official story.
Russia, of course.
The Russia hysteria that swept through the election of Donald Trump shows little sign of abating and some people even think that the Russians were responsible for the death of Epstein.
Joe Scarborough, host of Morning Joe on MSNBC got the ball rolling with this offhand tweet:
https://twitter.com/JoeNBC/status/1160184410588758018
After a whole bunch of outraged tweets, it turned out he was just kidding.
Dear Russians, if you are watching, I do not think you killed Jeffrey Epstein. But you did screw us in the 1972 Olympics basketball final.
PS—Thank you for helping us win World War II. And for Tolstoy. He's good.

— Joe Scarborough (@JoeNBC) August 11, 2019
Alec Baldwin also seems to be on the Russia train with this bizarre tweet.
https://twitter.com/ABFalecbaldwin/status/1160675131406114816
Mark Rubio thinks the Russians are involved but only because the Russians are blaming the Clintons.
#Putin bots & trolls are aggressively pushing hashtags on social media promoting Trump & Clinton conspiracies about #Epstein death.

It's sad (and frightening) to see so many Americans on both sides of partisan unwittingly helping them.

Putin has weaponized our polarization.

— Marco Rubio (@marcorubio) August 11, 2019
This leads us to our next theory.
The Clintons, of course.
There are a lot of powerful people who wouldn't want the world hearing what Epstein had to say about their unsavory sexual predilections. Topping that list could be a guy with frequent flier miles on the Lolita Express.
A trending hashtag on Twitter right now is #ClintonBodyCount. And we've got to be honest, there are a lot and we mean a lot of bodies that have fallen in the wake of Bill and Hil, so many that the term "Arkancide" is listed in Urban Dictionary. Totally unrelated, we're sure, despite what this book on Amazon or this documentary says.
I had not thought of it this way, but it's true! #ClintonBodyCount #Arkancide #smoke=fire pic.twitter.com/xOCGa6dJms

— Ronwallite (@RWTXRH) August 11, 2019
RationalWiki, recently updated with information on how the Clintons didn't kill Jeffrey Epstein, also says they didn't kill these people either.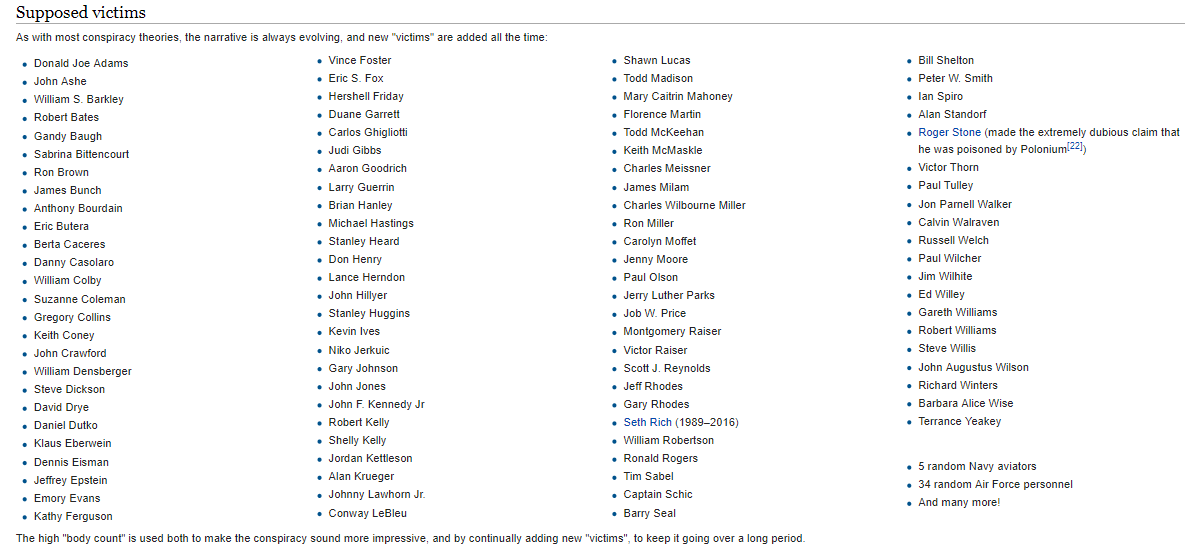 And there was fury on Twitter (when isn't there fury on Twitter?) when President Trump retweeted this theory.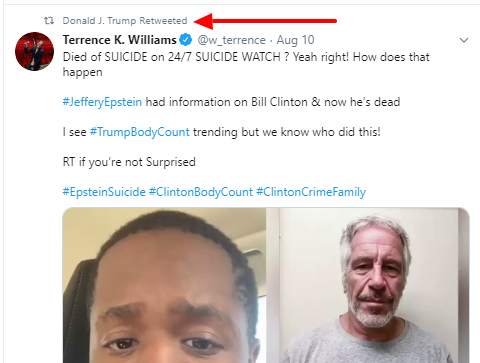 It's complete with video.
Died of SUICIDE on 24/7 SUICIDE WATCH ? Yeah right! How does that happen#JefferyEpstein had information on Bill Clinton & now he's dead

I see #TrumpBodyCount trending but we know who did this!

RT if you're not Surprised#EpsteinSuicide #ClintonBodyCount #ClintonCrimeFamily pic.twitter.com/Y9tGAWaAxX

— Terrence K. Williams (@w_terrence) August 10, 2019
But don't worry, none of this Clinton stuff could possibly be true because Snopes has debunked it.
Instead, it's obviously another political leader. One who tried to point the finger at the always-innnocent-and-benevolent Clintons.
Trump, of course.
#TrumpBodyCount is trending on Twitter, and the people making such Tweets are accusing Donald Trump of playing a role in Epstein's supposed death.
"Allowing?" If it trends, it trends. Sane people are looking to Trump's DOJ for answers on Epstein's death. And what's with the trail of dead Russians behind the Trumps? The Clintons kill them too? GTFOH. #TrumpBodyCount

— Trish_theDish (@TrishNarma) August 12, 2019
The people writing those Tweets seem to be ignoring the substantial documented ties Bill Clinton has to Epstein. Yes, Trump had a past relationship with Epstein, as evidenced by photographs and comments Trump made about Epstein in a 2002 interview: "I've known Jeff for fifteen years. Terrific guy," Trump booms from a speakerphone. "He's a lot of fun to be with. It is even said that he likes beautiful women as much as I do, and many of them are on the younger side. No doubt about it — Jeffrey enjoys his social life."
Donald Trump reportedly cut off contact with Epstein in 2004 after a real estate squabble. It has also been reported that Trump banned Epstein from Mar-a-Lago (where Virginia Roberts Giuffre allegedly met Epstein when she was 16). Last month, Trump said he knew Epstein "like everybody in Palm Beach knew him" and "I had a falling out with him a long time ago, I don't think I've spoken to him for 15 years. I wasn't a fan…I was not a fan of his…I feel very badly actually for Secretary Acosta."
However, Bradley J. Edwards, the lawyer for several of Epstein's alleged victims, said in an interview that Trump was the only high-powered person who was willing to talk to him when Edwards served subpoenas and notices to high-profile individuals connected to Epstein.
That being said, one can't help but wonder why Trump selected Alexander Acosta as his Secretary of Labor and William Barr as Attorney General, considering their questionable ties to Epstein. Of course, none of this means that Trump or his administration had anything to do with Epstein's death.
The Mossad killed him, of course.
You've probably heard the theory that Epstein may have an operator for the Mossad, getting all sorts of dirt on powerful perverts in order to strongly urge them to comply when asked for favors in the future. Dagney Taggart reported:
The Epstein case is filled with bizarre details that are difficult to unravel.

Maurene Comey, daughter of fired FBI Director James Comey, is reportedly one of the prosecutors in the Jeffrey Epstein case. She is an Assistant U.S. Attorney in the SDNY who has worked on cases involving alleged racketeering, drugs and weapons offenses, embezzlement, obstruction of justice, and robbery.

Robert Mueller led the FBI at the time of the original charges against Epstein.

There are additional bizarre details in the Epstein story, as Michael Krieger explains in The Jeffrey Epstein Rabbit Hole Goes a Lot Deeper Than You Think. Krieger works through a series of connections (to read them, click on the link to his article – his points are made in a series of Tweets) and eventually forms a theory that Epstein's entire operation was designed to ensnare the rich and powerful – and that the billionaire may be funded by Israeli spy agency Mossad. (source)
Another interesting source believes that not only was Epstein Mossad, but that the Mossad could be involved in a cover-up surrounding his death. (Or "death" if you prefer.) Philip Giraldi, a former CIA operative writes:
As a former intelligence officer myself, there is little doubt in my mind that what Epstein did and how he did it was an intelligence operation. There is no other viable explanation for his filming of prominent politicians and celebrities having sex with young girls. And as for the question of whom Epstein might have been working for, the most likely answer is Mossad. The CIA would have had no interest in compiling dossiers on prominent Americans, but American movers and shakers like Bill Clinton, with his 26 trips on the Lolita Express, former Governor Bill Richardson, or former Senator George Mitchell are precisely the types of "agents of influence" that the Mossad would seek to coerce or even blackmail into cooperation…

…Epstein is now dead. But the key questions go unanswered including was he a spy for Israel? And what about the Krischer-Dershowitz connection that kept him from being punished commensurate with his crimes? Did those instructions also come from Israel or from its friends in the U.S. Justice Department? Will the three simultaneous investigations currently taking place even continue and ask the right questions now that the target of the investigation is gone? Given the high stakes in the game, quite likely, there will be a cover-up both of how Epstein lived and how he died. We the public will never know what Epstein was all about. (source)
He's not actually dead, of course.
Is there a chance that Epstein is not actually dead?
Maybe he's in witness protection. A whole lot of people have BIG reasons to want him dead. Maybe one of his excessively wealthy and powerful friends helped him escape and he's somewhere drinking mojitos and laughing at the coverage of his untimely demise.
There are some mysteries about how he could have managed to commit suicide or be murdered in his recent situation.
So maybe, just maybe, the guy isn't actually dead but in the witness protection program, because if ever a witness would require protection, it would be this one. Is it possible that the DoJ wants to build a case against even bigger fish than Epstein?
Or maybe he is free as a bird in the most outrageous jailbreak in American history. The world my never know.
What do you think happened to Jeffrey Epstein?
Share your thoughts here or go vote on our poll.