The Pantry Primer: Adding Larger Purchases to Your Stockpile
(Psst: The FTC wants me to remind you that this website contains affiliate links. That means if you make a purchase from a link you click on, I might receive a small commission. This does not increase the price you'll pay for that item nor does it decrease the awesomeness of the item. ~ Daisy)
By Daisy Luther
Weekly grocery shopping is not the way to quickly build  one-year food supply.  But now that I have built a base, over the past two weeks I was able to easily skip the weekly trips and save up for a larger purchase.
To be able to afford large purchases when you are on a regular, week-to-week budget, you have to figure out a strategy. For me, that is the best way to save up for bigger purchases – skip a week of shopping and then add the budgets of the two weeks together in order to  make some bulk purchases that I ordinarily couldn't swing along with a week of regular grocery shopping.  Other strategies could include:
Selling something in order to come up with a lump sum of money
Taking a part-time job
Cancelling something that you make monthly payments on and putting that money towards your stockpile (cable, cellphone, etc.)
(Go here to learn more about living a frugal lifestyle in order to meet your goals.)
This week I purchased 8 starter kits from a nearby LDS warehouse for $31 apiece.
Each kit contains 28 pounds of food, including: wheat, flour, pinto beans, rice, and oats, and the LDS considers this a one-month supply of food for one person.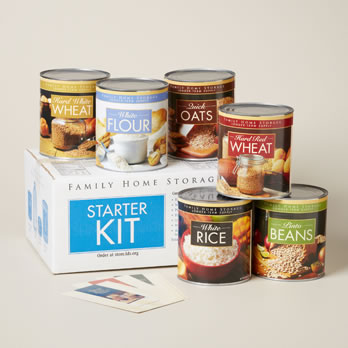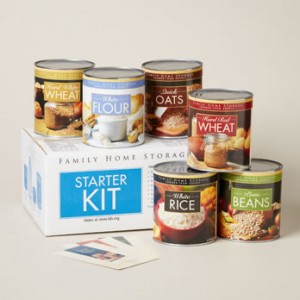 Now, these kits are not the rock-bottom, cheapest way to purchase this longer-term storage food.  I could have gotten the items for less money by purchasing them in bulk elsewhere.  However, you have to keep in mind that I started out without most supplies.  I don't have food sealers or any of that stuff.  I would have also had to have purchased Mylar bags, food safe buckets, and other items for repackaging.  These came already packed in #10 cans, ready to sit on my shelves for the next 10 years if need be.
My purchase added the following to my shelves:
41.6 pounds of beans
88 pounds of wheat berries
32 pounds of flour
19.2 pounds of oats
43.2 pounds of rice
With this addition, my pantry is now up to about a 5 month supply of food for 2 people, although I need more fruits and vegetables put back to be truly well balanced.  (You can see how much you need for your family members using this FOOD STORAGE CALCULATOR.)
Want to learn more? My new book is now available!
Lots of us like to have hard copies of information that we've found helpful.  Because of this, I've expanded on the information included in this series and put it all in one handy primer, available on Amazon.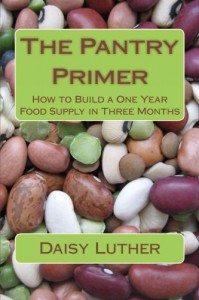 About the Author
Daisy Luther is a coffee-swigging, globe-trotting blogger. She is the founder and publisher of three websites.  1) The Organic Prepper, which is about current events, preparedness, self-reliance, and the pursuit of liberty on her website, 2)  The Frugalite, a website with thrifty tips and solutions to help people get a handle on their personal finances without feeling deprived, and 3) PreppersDailyNews.com, an aggregate site where you can find links to all the most important news for those who wish to be prepared. She is widely republished across alternative media and  Daisy is the best-selling author of 5 traditionally published books and runs a small digital publishing company with PDF guides, printables, and courses. You can find her on Facebook, Pinterest, Gab, MeWe, Parler, Instagram, and Twitter.