Introducing Preppers Market: A Family-Owned Online Store for Survivalists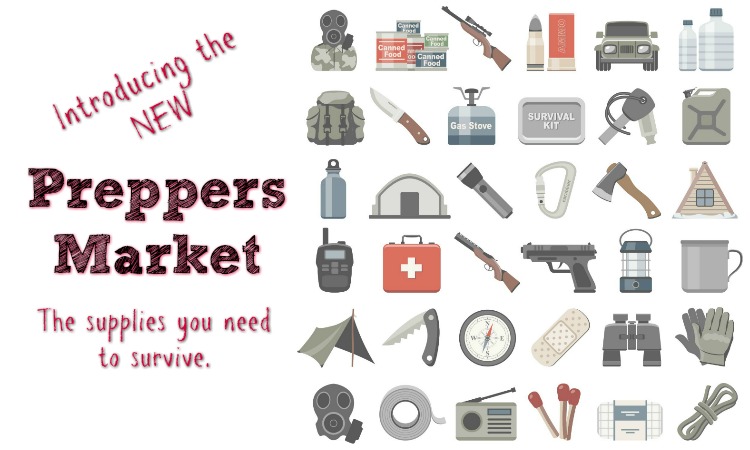 As you probably know, September is National Preparedness Month. And never has NPM been more appropriate than this year. We're living in the United States of Catastrophe and it looks like things will only be getting worse.
The Western US is on fire. The Texas Gulf Coast has been devastated by Hurricane Harvey. Florida is about to be hit with an even bigger disaster, the Category 5 Hurricane Irma, which may go up the East Coast wreaking havoc on other coastal areas. To make matters worse, some are expecting Tropical Storm Jose to turn into a Hurricane that will follow closely in the path of Irma.
But that's not all. Idaho has been shaken by tremors, with the latest quake registering 5.3 on the Richter scale. This could be related to one of the biggest earthquake swarms in American history, which is currently taking place at the site of the Yellowstone Supervolcano.
Then there's the looming threat of North Korea. This past weekend they successfully tested a hydrogen bomb so powerful it set off a 6.3 earthquake, and the North Korean state news agency mentioned the terrifying possibility of using their satellites to detonate an H-bomb in the atmosphere over the United States, which would cause an electromagnetic pulse (EMP) that could wipe out our electrical grid for years.
If you ever considered prepping, NOW is the time.
Check out our new online store!
We've recently updated our online store, Preppers Market. We have a lot of new product, great prices, and free shipping in the continental US on all purchases over $75. (If you're in Hawaii or Alaska, we have special rates. Contact us for more information.)
Go here to check out our great products!
The new-and-improved Preppers Market offers a lot of variety. Here is a glimpse of our collections:
We also offer an extensive collection of Sample Packs so you can try before you buy.
PS: Are you tired of making the owner of Amazon rich? If you want to support the Organic Prepper website, this is one of the best ways to do it. It's a true family business: both my daughters and I work hard to run the store. Purchasing supplies that you need from Preppers Market helps to support our enterprise.
Thanks for checking it out, and happy prepping!
About the Author
Please feel free to share any information from this site in part or in full, leaving all links intact, giving credit to the author and including a link to this website and the following bio. Daisy is a coffee-swigging, gun-toting, homeschooling blogger who writes about current events, preparedness, frugality, and the pursuit of liberty on her website, The Organic Prepper. Daisy is the publisher of The Cheapskate's Guide to the Galaxy, a monthly frugality newsletter, and she curates all the most important news links on her aggregate site, PreppersDailyNews.com. She is the best-selling author of 4 books and lives in the mountains of Virginia with her two daughters and an ever-growing menagerie. You can find Daisy on Facebook, Pinterest, and Twitter.