Friday Farm Blog – Oct. 16, 2015
Hi, everyone! I hope this has been a wonderful week for you. This week's Friday Farm Blog is full of all of the projects that we've been doing. Now that it's fall (even though it was 104 degrees one day this week) I've been feeling sort of domestic.
I've been in a cooking mood this week. Maybe it's the Once-a-Month Shopping Challenge, but I've been feeling more creative in the kitchen when forced to work with only the things I have on hand.  I made the most delicious cookies from  a recipe on the Whole New Mom blog. I substituted maple syrup for the sweetener called for in the recipe and used coconut flour, since we don't eat grains very frequently. (It doesn't make your recipe turn out coconutty, FYI – I loathe coconut, so you can trust me on this one!) They really are that gorgeous orange color you see in the photo, too. I noticed when searching for recipes that most pumpkin cookies don't actually contain pumpkin, just pumpkin pie spice. These contain real pumpkin puree made from last year's Jack-o-Lanterns.
We had such a salty-crunchy craving that I tried my hand at making zucchini chips in potato chip flavors using my Excalibur dehydrator. (By the way, the 4 tray version of this dehydrator is on sale for only $99 at the time of this post. That's SUPER cheap. Whether it's practical for you depends on the amount of food you normally dehydrate. For large batches, look to the larger 9-tray version.) The non-stick sheets that I ordered for it have made life FAR easier because they wipe clean with a sponge. I don't have to spend an hour afterward poking the holes in those little screens with a brush to get the food out. I made barbecue, ranch, and parmesan/black pepper/garlic flavors. Look for the recipes this week.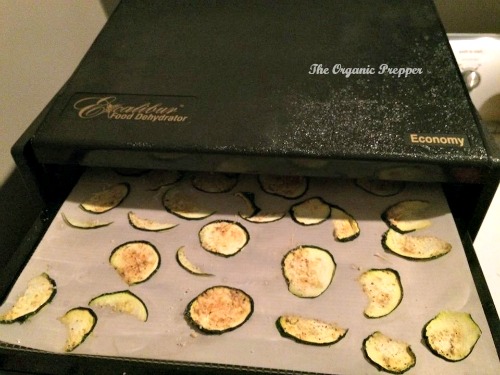 I also had to channel my creativity when I ran out of dishwasher soap, something I had totally forgotten about on my shopping trip. I've made the homemade stuff in an ice cube tray before, but this time I decided to be lazy and make a powder instead of a cube. I used some lemon essential oil from Spark Naturals for a fresh clean scent, and added it to pantry items. The first batch didn't get things clean, so I had to add a couple of ingredients and remix it to perfect things.  This recipe will be posted soon too.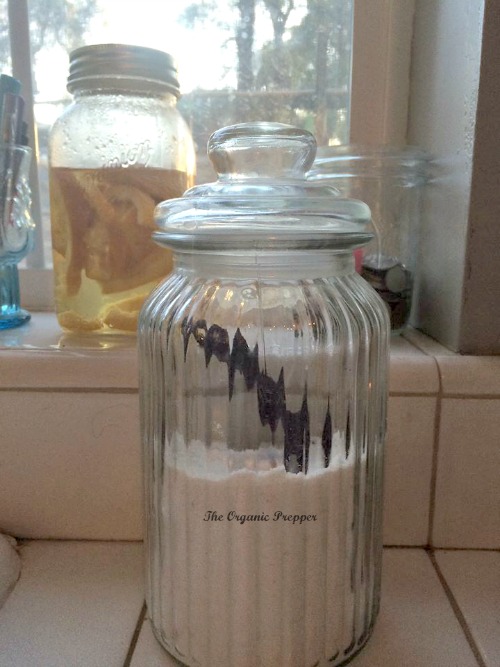 For those of you doing the Once-a-Month Shopping Challenge, how's it going? Have you hit any snags? How did you resolve them? Please share in the comments section! If you haven't joined yet, check out the details HERE.
There could be some light on the horizon with regard to California's epic drought. There is an El Nino system building over the Pacific. Much debate is occurring on whether this will hit all of California or just part of it. Many think it will be the answer to our prayers for rain, and I'm very hopeful too. But what a lot of folks are forgetting is the need to prepare for this.
Forest fires have left much of our mountains bare. This increases the risk for severe erosion, and even mudslides. Another risk is flash flooding. The ground is so hard and compacted from drought that much of the water is likely to run right off. For low-lying areas (like my house) this could be an issue. Below is a photo out my kitchen window. There is a four-foot drop-off behind that raised bed, and it's at the base of a large hill. If there is a huge storm, it's probably going to turn into a waterfall.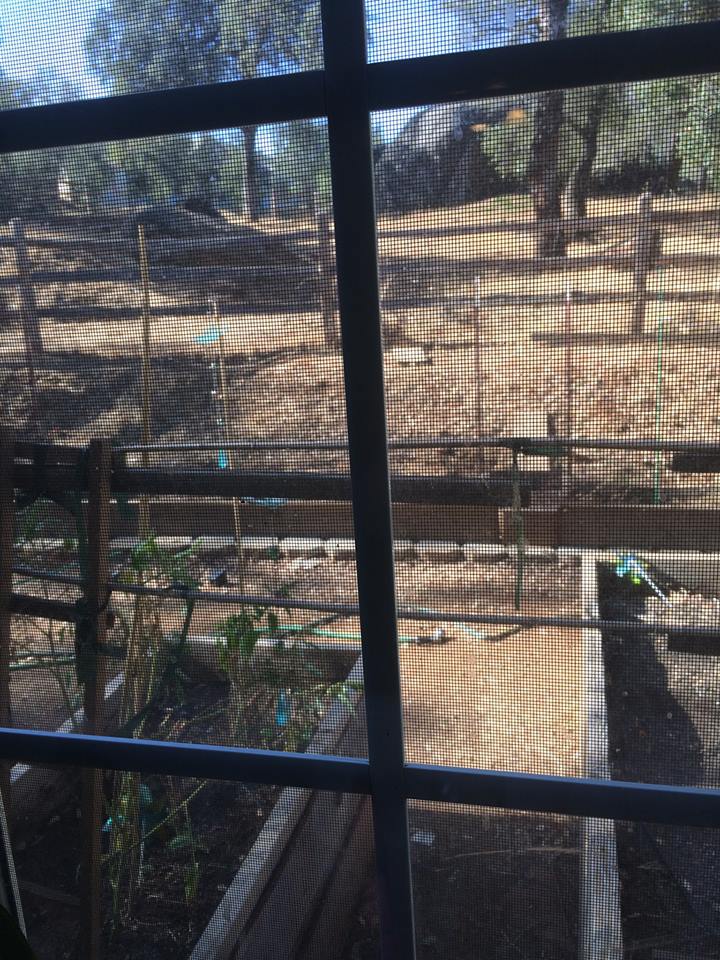 I went out to try and dig a trench to divert the water, but the ground was so rock hard, I couldn't make a dent in it. During the upcoming week, we'll be using some heavy equipment to try and prevent a flood here and around my barn.  (Note the scraggly tomato plants that are STILL producing.)
I've always been a morning person, but having farm animals makes me love it even more. They're always so happy to see me when I let them out of their respective sleeping areas. Maybe it's because I bring food.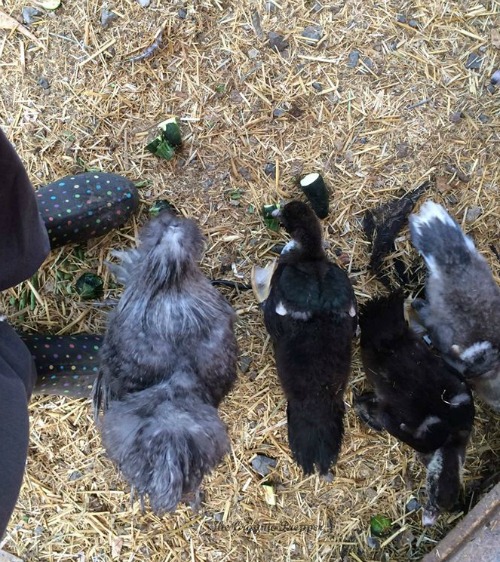 They're also always good for a laugh. Our little goat Nameless barged into the chicken coop with me this morning. She made herself at home in the chick brooder, much to the dismay of The Littles (our four youngest chicks).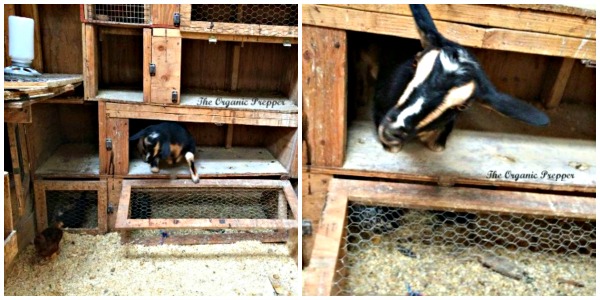 Speaking of goats, Cora's still hanging on to those babies.
This weekend, I'm getting my storage areas organized. I have to make room for some food storage buckets that I have coming soon. I was really sold on the Numanna products, so I'm adding them to my emergency stockpile.
We know how to party around here. What's going on at your little homestead this week? Are you still harvesting? Are you also in "nesting" mode for the winter ahead?  I truly love hearing about your projects, goals, and achievements.
Until next week!
About the Author
Please feel free to share any information from this site in part or in full, leaving all links intact, giving credit to the author and including a link to this website and the following bio.
Daisy is a coffee-swigging, gun-toting, homeschooling blogger who writes about current events, preparedness, frugality, and the pursuit of liberty on her website, The Organic Prepper. She curates all the most important news links on her aggregate site, PreppersDailyNews.com
She is the best-selling author of 4 books and lives in the mountains of Virginia with her two daughters and an ever-growing menarie.
You can find Daisy on Facebook, Pinterest, and Twitter.